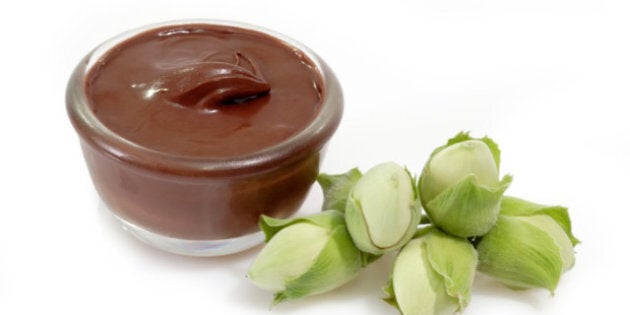 When you start reading food labels, instead of obsessing over nutrition panels (i.e. fat/carb/protein content), you learn about what you're actually putting into your body and can then get back to the basics of eating real food (instead of eating "food-like-substances").
Which is how this Nutella-esque recipe came to be. The ooey-gooey hazelnut spread is a comfort food to many -- just think about how enjoyable it is to slather the stuff onto a crepe. But when you read the food's labels, it's hard to ignore how much sugar and fat is actually in the product.
So it's time for a homemade, Nutella alternative. Find a perfect, wholesome, good-for-you recipe below. It creates a spread that tastes just as good as the original, but is way better for your body.
1 tbsp raw cacao powder or cocoa powder (If possible, opt for the cacao -- it's higher in nutrients and antioxidants and is less processed.)
2.5 tbsp real maple syrup
1/2 tsp pure vanilla extract
1-2 tbsp of organic coconut oil
*Take about 1/2 cup hazelnuts and food process them until they form a fine ground meal. This makes about 1/4 cup. If you can find hazelnuts already ground, more power to you!
Combine the ground hazelnut and cacao powder in your food processor until blended completely. Add the remaining ingredients, process until combined, and enjoy!
You won't get a smooth finish like you get with processed hazelnut spread, but it will be free of refined sugar and additives.
Spread this dish on toast, add to a smoothie, slather it on a crepe or a pancake. Just be sure to use in moderation -- this is meant to be a sweet treat!
Joy McCarthy, registered holistic nutritionist and health coach of Joyous Health, loves to inspire others to eat well and live well. She also teaches an array of wellness workshops and co-creator of Eat Well Feel Well, a six-week nutrition and yoga course in Toronto. Joy welcomes your questions or comments.
Please note: All of these recipes are created in Joy's joyous kitchen with the healthiest ingredients. She's not a calorie counter or a professional chef -- she's a nutritionist who loves to cook and bake, and she's delighted to share her creations with you.