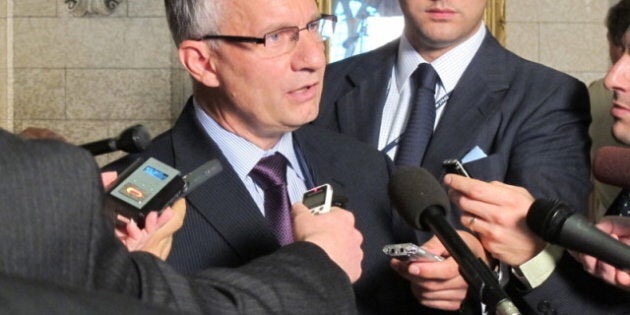 The International Trade Minister's office reacted to a Huffington Post Canada story Tuesday, accusing Liberal MP Wayne Easter of grandstanding.
Easter earlier Tuesday presented two motions at the Standing Committee on International Trade that called for a study of 'Buy America' provisions as well as a background briefing on the Comprehensive Economic Trade Agreement (CETA) with the European Union. Yesterday, Easter told Huffington Post that Canada's elected representatives have been kept in the dark over a multi-billion dollar trade deal with the EU and Parliamentarians deserve to know what they're signing-off on.
But International Trade Minister Ed Fast's office says the Minister sent a letter to Tory MP Rob Merrifield, the chair of the Standing Committee on International Trade, on Sept. 15, asking if Fast could appear before the committee to update members on the Canada-EU free-trade negotiations.
Easter, however, told The Huffington Post that letter was only presented to MPs at the committee Tuesday morning.
Fast's office also said Easter was incorrect that there had been no net-benefit analysis done by the Government of Canada.
"The Canada-EU joint study indicated a trade agreement with the European Union is expected to boost Canada's economy by $12 billion and increase two-way trade by 20%," Fast's press secretary Rudy Husny said. "It will give preferential market access for Canadian businesses to the world's largest single common market, foreign investors and trade... (and) is expected to create almost 80,000 new jobs."
Easter said if that was true he wanted to see it.
He told Huffington Post he was penning a letter to the minister asking him to table the comprehensive document with the clerk of the committee, so MPs could study the risk analysis.
The international trade committee passed Easter's motion calling for study of 'Buy American' provisions on Tuesday. The committee will call on the minister as well as representatives of the manufacturing sector and Canada's Ambassador to the U.S. Gary Doer to testify.
Easter's other motion calling for a briefing on the Comprehensive Economic Trade Agreement was nullified after the committee passed a draft agenda presented by Gerald Keddy that included a briefing on CETA.
MPs are tentatively scheduled to be briefed on October 6th by the minister as well as on October 18th — just as the ninth round of negotiations begin.
"We should have been briefed before the first round began," Easter told Huffington Post.
Speaking with reporters after Question Period, Fast pledged the government would increase consultations on the Canada-EU deals — both CETA and the political framework agreement which accompanies it.
"We will be consulting not only with our colleagues, we will be consulting broadly with our stakeholders as we have with the Canada-European free trade negotiations. The CETA negotiations have been the most consultative. They've been the most transparent negotiations Canada has ever undertaken," he said.
The Minister also addressed concerns of new 'Buy America' provisions that could hurt Canadian businesses by freezing them out of the U.S. market.
"I have been I touch with both the American Ambassador to Canada as well as with the U.S. Trade Representative Ron Kirk. We've impressed upon them our serious concerns about the impact that this has on trade around the world. We believe that their decision really signals the wrong signal that trade protectionism is helpful. It is not. We are a government that is very supportive of removing trade barriers rather than erecting new ones," he said.
Fast did not say the federal government had received any assurances that any kind of protective wording would be dropped from American plans.
"All I can say right now is that we're working very hard to impress upon the Americans that protectionism hurts not only our workers, it also hurts their workers. Our economies are fully integrated. Our supply chains are fully integrated. And when they take a decision on protectionism like they have, that hurts both economies. And it sends the wrong message to the global economy," he said.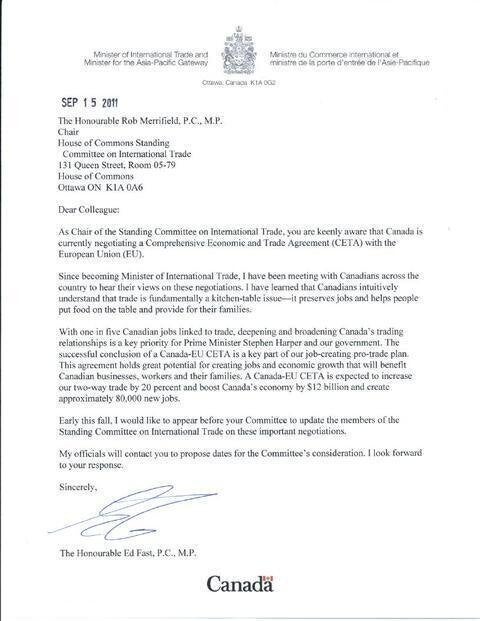 The text of International Trade Minister Ed Fast's letter to Tory MP Rob Merrifield, chair of the Standing Committee on International Trade.