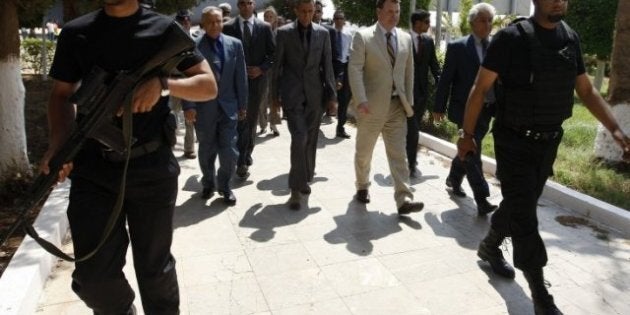 OTTAWA — Foreign Affairs Minister John Baird may head to Libya as early as this week, The Huffington Post has learned.
Planning is underway for Baird to visit Tripoli, the Libyan capital, but sources said the trip is conditional on the National Transitional Council (NTC) selecting a new interim cabinet.
Libya's Interim Prime Minister Mahmud Jibril said last week in New York that he expected the cabinet would be announced "within a week, "10 days maximum."
But political infighting between members with old regional rivalries seems to be delaying decisions about who will form the cabinet — decisions that were first promised in early August.
Baird is expected to pledge more money for the reconstruction effort during his second trip to the country in four months. He was in Benghazi in June to meet Libya's rebel leaders.
On Monday, MPs formally approved the extension of Canada's military role in the NATO-led 'Operation Unified Protector' by up to three months, voting 189 to 98 in favour, with the Liberals and Bloc Quebecois supporting the government's motion and the NDP and Green Party opposed.
Baird, who addressed the United Nations General Assembly while the vote was taking place in Ottawa, told the sparse crowd that Canada had not looked the other way as the Gadhafi regime disregarded human rights and the rule of law and "waged war on the people of Libya."
In a speech in the Commons earlier Monday, Defence Minister Peter MacKay said Canada had been on the ground at the very beginning when the international community acted to protect Libyan civilians from indiscriminate and violent attacks by Gadhafi's regime, and Canada should be there until the job is done.
"Canada has never shirked a responsibility and certainly we cannot do so now," MacKay told his fellow MPs.
The NDP, however, feels that with the NTC in place, the job in Libya is mostly finished and it is now time for Canada to change its focus.
NDP Defence critic Jack Harris told HuffPost his party feels that Canada should turn its attention on helping Libya rebuild.
"We've done more than our share, (we should) put the effort in the rebuilding and the civil society and the help with governance issues — that should be the focus of Canada's efforts," he said. "We don't think that we should continue with the military role."
Harris said he also feels Canada could help the National Transitional Council achieve cohesion — possibly through mediation.
"I think there needs to be some assistance to this group to develop a proper kind of consensus — or make sure that there is a role for the different groups within that. Some mediation role, that is something that Canada could be good at. We could be providing our good officers to help that rather than just be sort-of a cheerleader," he told HuffPost.
Harris noted that Canada has spent less than $12-million on the humanitarian front, but was expected to shell out more than $60-million on the military side.
Although MacKay noted Libya's "immense petroleum wealth" three times during his speech to the Commons, the minister insisted Monday that Canada was not joining the military efforts in Libya to get a piece of the country's large economic pie.
"Canada still has more of a load to shoulder, which we do willingly, with enthusiasm, with no expectation of anything in return except the success of the Libyan people," he said.
Libya sits atop Africa's largest proven reserves of conventional crude, raking in $40-billion in revenue last year from oil and gas exports.
With Files from the Canadian Press