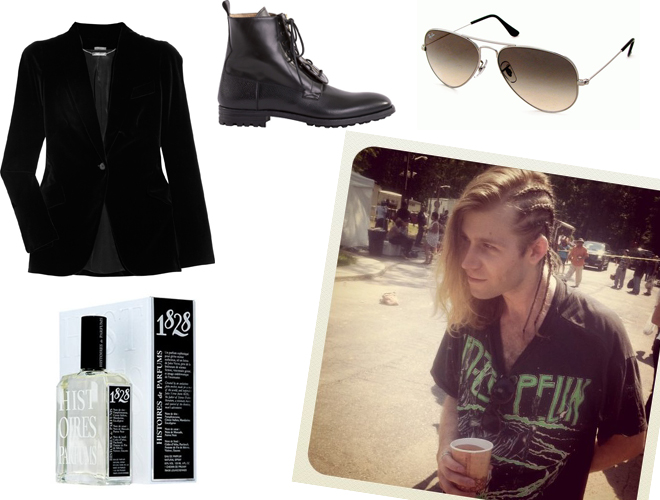 When Aaron Pfenning of indie favorite Chairlift ventured out on his own to form solo project Rewards last year, we were all ears (as we were when he since tapped Solange Knowles to collaborate on the infectious disco-pop single "Equal Dreams"). We asked Pfenning to share his style essentials.
1. Histoires de Parfum 1828: I haven't worn cologne in my life until a couple years ago when I discovered this fragrance. Histoires de Parfum 1828 is inspired by the sci-fi writer Jules Verne (1828 being the year he was born) and is composed of citrus (Mandarin orange, Italian lemon, Brazilian lime) and exotic spices (Siberian pine and vetiver).
2. Ray Bans: I don't go anywhere without sunglasses. Simple fact.
3. Alexander McQueen velvet jacket: It doesn't matter how jet-lagged or scruffy I might be feeling, when I put on this jacket I feel fresh and born again.
4. Snakeskin ring: I found this ring at a flea market in Berlin. The design was made using an imprint of a snake skin. I haven't seen any other ring like it.
5. Alexander McQueen black boots: My base of all operations, my boots. Everything starts to come together when you get the boots just right.