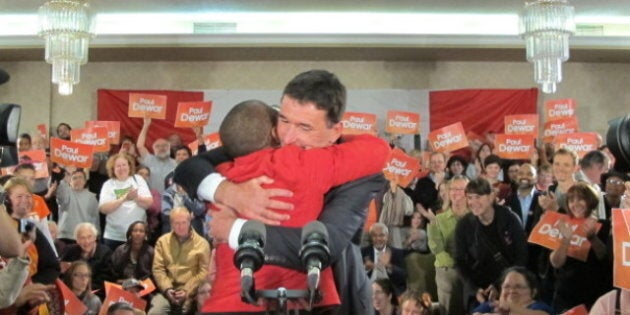 The NDP leadership race is heating up.
The Official opposition's foreign affairs critic Paul Dewar announced Sunday he is throwing his hat in the ring to replace the late Jack Layton as federal leader of the New Democratic Party.
Dewar, the fourth candidate to jump in race, said he'll focus his campaign on the "grassroots."
"For me, it is about engaging with people who are presently members of the party, and people who aren't," he said, noting that there were 4.5 million Canadians who voted NDP in the last election.
"We need to invite them in and offer them a vision of Canada that, I think, people are thirsting for," Dewar told reporters right after his announcement.
In a broken French, the Ottawa MP told a hometown crowd he knows he needs to work on his language skills but it is a "challenge" he is confident he will overcome.
He joins British Columbia MP Nathan Cullen. who announced his candidacy in Vancouver Friday, as well as first-time Quebec MP Romeo Saganash and front-runner Brian Topp, the NDP's former party president and a long-time backroom organizer.
Topp, the perceived front-runner, has collected a series of endorsements from big names in the party, such as former Saskatchewan premier Roy Romanow and former federal leader Ed Broadbent.
Broadbent represented Ottawa-Centre, Dewar's riding, from 2004 to 2006 and is often seen at Dewar's side during events. Sunday, Dewar acknowledged Broadbent won't be standing next to him any longer, but he said he expects the contrast between Topp and himself will become obvious.
"Brian is going to do what he thinks is best, and I'm going to do what I think is best, in terms of how we engage," Dewar told reporters. "I think contrast is inevitable. Different candidates are going have different things they bring to the table."
Topp has the public support of four caucus members, Dewar acknowledged that so far he has none.
"That is not my focus — stay tuned as the campaign goes on, but my focus was actually to connect with people all across the country," he said.
Dewar has been the MP for Ottawa-Centre since 2006. Dewar's mother, Marion Dewar, a past president of the NDP and a former MP, was a popular mayor in the nation's capital
Dewar resigned his position as the NDP's foreign affairs critic Sunday when he made his announcement, as per the party's leadership rules. It will be up to Interim leader Nycole Turmel to name a replacement.
A handful of other NDP MPs are still mulling over potential leadership bids.
B.C. MP Peter Julian suggested on Twitter this weekend that he will have an announcement to make in the coming days.
Nova Scotia MP Robert Chisholm, Quebec MP Thomas Mulcair, Ontario MP Peggy Nash and Manitoba MP Niki Ashton are still on the fence.
NDP members will decided on March 24 who will be the next leader of the official opposition.