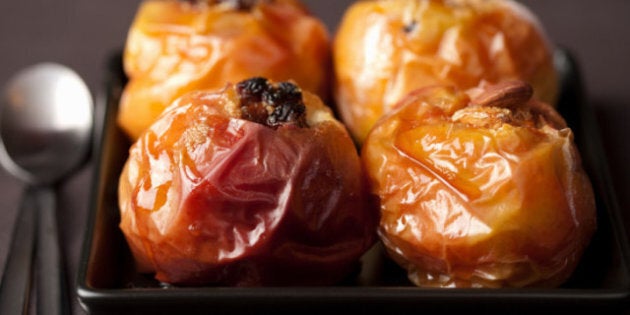 If you like the idea of making a dessert for your family that smells delicious and tastes just as good, then this recipe is for you. Add the fact it's kind to your waistline and nutritionist-approved, and it doesn't get any better than that. Forget exotic fruits and vegetables, this fruit is local and plentiful in farmers' markets and grocery stores right now.
-- An apple a day keeps the doctor away really is true. In an analysis of more than 85 studies, apple consumption was shown to be consistently associated with a reduced risk of heart disease, cancer, asthma and type 2 diabetes compared to other fruits and vegetables.
-- Apples are a very high source of a flavanoid called quercitin, which is anti-inflammatory. Many researchers believe this is the reason for their protective effects against heart disease and asthma.
-- Apples are a high source of pectin, a soluble fibre that becomes gel-like in the gut and can lower cholesterol as well as improve the intestinal muscle's ability to push waste through the gastrointestinal tract.
-- The insoluble and pectin fibre both promote bowel regularity, relieving both constipation and diarrhea.
Note: Apples are one of the top foods for pesticide contamination, even if they are local. Buy organic as often as possible to reduce your exposure to pesticides.
2 organic apples cut into 3/4 inch slices, core removed (leave the peels on)
2 tbsp of dried cranberries or raisins
Drizzle of maple syrup or sprinkle of sucanat sugar
Preheat your oven to 350F. Pour apple juice into baking dish. In a bowl, combine apple slices, cinnamon, cranberries or raisins and maple syrup or sucanat sugar. Place this mixture into the baking dish covered and bake for 20 to 25 minutes or until the apple is fork tender. Pour over some yogurt or good quality organic vanilla bean ice cream.
Joy McCarthy, Registered Holistic Nutritionist and Health Coach of Joyous Health, loves to inspire others to eat well and live well. Co-creator of Eat Well Feel Well a 6-week nutrition & yoga course in Toronto. Joy welcomes your questions or comments.
Please note: All of these recipes are created in her joyous kitchen with the healthiest ingredients. She's not a calorie counter or a professional chef -- She's a nutritionist who loves to cook and bake, and she's delighted to share her creations with you.