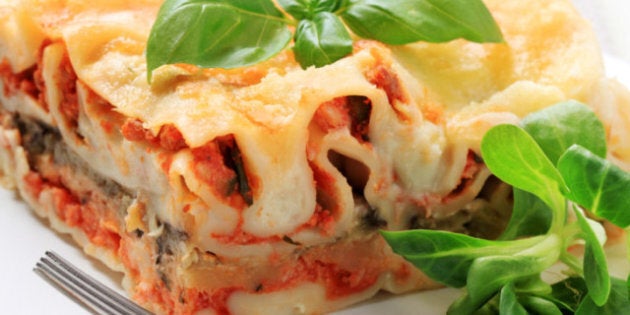 This healthy and delicious recipe for lasagna can be made in a snap and can then be heated in the oven for 15 minutes.
For added health benefits, this recipe is made with whole wheat flour pasta instead of white flour pasta. When flour is refined, the fibre, nutrients and good fat are stripped away. Because of this, your body will very quickly convert the carbohydrates to glucose, causing a speedy rise in blood sugar levels. If you have time, make a big salad to go along with your lasagna -- filling up on fibre and raw enzymes will actually promote good digestion.
1 lb ground turkey or lean ground beef (for a vegetarian option, you could use frozen spinach in place of meat)
1-2 cans whole tomatoes (it depends how "saucy" you like your lasagna). You cannot avoid BPA in canned tomatoes unfortunately. You could always make your sauce from scratch too.
15 crimini mushrooms, chopped
2-3 garlic cloves, chopped
1 1/2 teaspoons dried basil
3/4 teaspoon dried oregano
12 whole wheat lasagna noodles
1 1/2 cups ricotta cheese
2 cups organic mozzarella
Sautee the ground turkey until cooked (about 10 minutes), set aside. Sautee the onions, mushrooms and garlic until tender and then add them to the turkey. Pour the tomatoes into the mixture and season with herbs, bring to a soft boil and reduce to a simmer for 10 minutes -- you will need a good sized pot for the sauce.
Meanwhile, bring a large pot of water to a boil and cook 12 whole wheat lasagna pasta strips for six to seven minutes. If you want to make it gluten-free then use brown rice lasagna pasta. Many people prefer the uncooked noodle method to save time -- adding the lasagna noodles when they are still uncooked and then adding extra water to the lasagna pan -- but it can make the lasagna too watery.
Preheat oven to 325F. Lightly coat the bottom of your 9"x13" lasagna pan with sauce to prevent the lasagna from sticking. Place your first layer of noodles followed by sauce, then ricotta and then another layer of noodles. Repeat until you are out of ingredients (approximately three layers). Top with organic mozarella. Place in oven and cook covered for 35 minutes. Remove the cover and let cook for the remaining 10 minutes. Remove from oven and let stand at least 10 minutes before serving.
Serves 10 to 12, so yes, you will have leftovers.
Joy McCarthy, Registered Holistic Nutritionist and Health Coach of Joyous Health, loves to inspire others to eat well and live well. Co-creator of Eat Well Feel Well a 6-week nutrition & yoga course in Toronto. Joy welcomes your questions or comments.
Please note: All of these recipes are created in her joyous kitchen with the healthiest ingredients. She's not a calorie counter or a professional chef -- She's a nutritionist who loves to cook and bake, and she's delighted to share her creations with you.