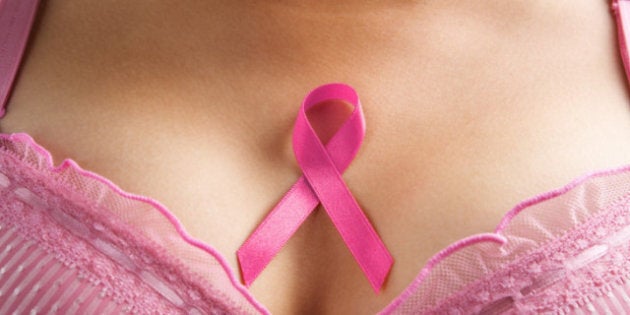 Boobyball (now in Toronto and Calgary). The Fashion Target's Breast Cancer T-shirt. The movie About Her. In the 10 years Rethink Breast Cancer has been around, the organization has done an incredible amount of work to change the face of breast cancer -- informing the public about the many ways the disease affects young women.
MJ DeCoteau started the charity when she was 22 after losing her mom to the disease. "I wanted information about my risk factors, but all I could find were scary, drab brochures with senior citizens on the cover." She also wanted to find ways to support the breast cancer cause without having to buy into solely pink ribbon-baring products. "I wasn't into stuffy gala dinners, afternoon teas or golf tournaments. There was an opportunity for a new breed of breast cancer charity, one that was relevant to young women."
Today, she's proud to say Rethink has become a resource for young people concerned about and affected by the disease. "We have stayed true to our original goals and continue to be relevant to the next generation of young women and to be there to support them. We continue to fill gaps."
Story continues below our favourite pink ribbon products' slideshow.
Some of those gaps include coping with a health-care system where screening and treating the disease is still the main message of government breast cancer awareness programs. For DeCoteau, the goal should actually be about promoting good health and to help people live and build healthy lives.
"I'd like to see more money spent on both research into causes of cancer and risk reduction. And, in terms of treatment, I'd like to see equal access to treatment for all Canadians. Unfortunately, there's quite a disparity of care across our country. I don't like to think that outcomes are affected by where you live in Canada. That needs to change."
And while advances in treating breast cancer have been made over the past decade, there's still a lot to do for women who are currently battling the illness or are coping with the aftermath of cancer.
"The breast cancer journey doesn't end when treatment does and I think it's important that breast cancer patients and their families know that recovery and physical and emotional healing takes time… a lot more time than most people assume," says DeCoteau. "Often, a woman can't even begin processing what she's just been through and understand the emotional impact that her diagnoses has on her until treatment is complete."
Her main message to women suffering with the disease: "Give yourself time, seek support from others who have been through it and know that you are not alone. I thank all those who continue to raise awareness about breast cancer, especially those that can turn awareness into action."