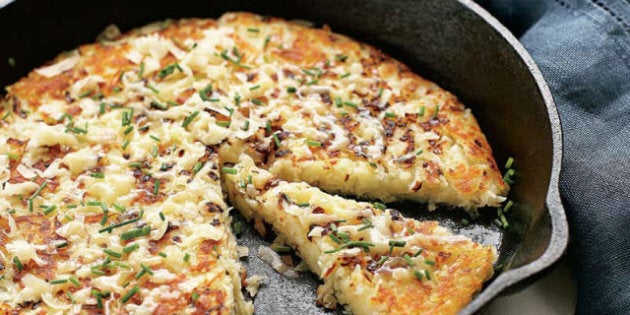 A traditional Swiss rösti is prepared with the previous day's boiled potatoes; it's best to use slightly undercooked ones. If you boil potatoes the same day, refrigerate them until they're cool for easy grating.
1 lb (450 g) potatoes (unpeeled) and scrubbed
Half onion, finely chopped
1 cup shredded Gruyère cheese (about 4 oz/115 g)
In saucepan of boiling salted water, cook potatoes, covered, until tender but still a little firm.
Drain and let cool. Refrigerate, uncovered, for 12 hours. (Make-ahead: Refrigerate for up to 24 hours.)
Peel potatoes; coarsely grate into bowl.
Mix in onion, salt and pepper.
In cast-iron or nonstick skillet, melt two-thirds of the butter over medium heat; press potato mixture into pan to cover bottom.
Cook until bottom is well browned, 10 to 12 minutes. Invert plate over rösti; carefully flip rösti onto plate.
Add remaining butter to skillet. Slip rösti back into skillet, uncooked side down; cook until bottom is light golden, about six minutes. Slide onto plate; cut into halves or quarters.
Recipe from Canadian Living's The International Collection: Home-Cooked Meals From Around The World.