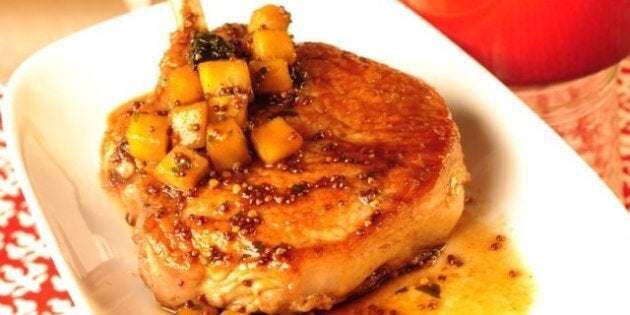 If you want to get creative for dinner, why not try an alternative meat. Pork chops dressed with apples is delicious combination for fall.
4 boneless center-cut pork chops, cut 1 1/2 " thick
4 green apples peeled, cored, and cut into 1/2" dice
Heat two tablespoons olive oil in an oven-proof pan over medium-high heat. Season pork chops with salt and pepper.
Sear chops on both sides until golden brown, about two minutes per side.
Add the butter, garlic and thyme to the pan.
Baste the chops with the butter then finish roasting in the oven for eight to 10 minutes.
Meanwhile in a pan, heat remaining one tablespoon of butter over medium heat.
Add the onions and cook until caramelized, about eight minutes.
Add the apples, brown sugar, vinegar, chopped thyme and mustard.
Stir well to combine and cook for about three minutes until the apples have softened.
Season with salt and pepper. Serve chutney over pork chops.
Recipe provided by Canadian chef Lynn Crawford.