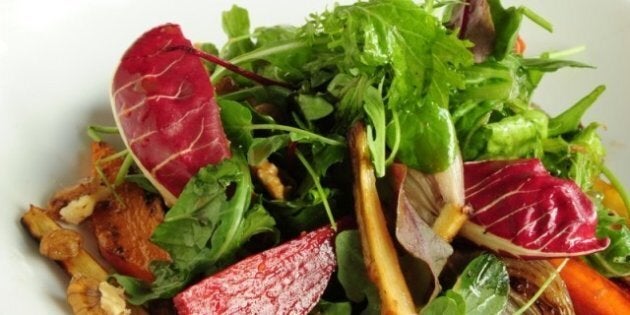 Side salads are a great replacement option if you're trying to keep your dinner side dishes healthy.
1/4 cup extra-virgin olive oil
8 baby red or golden beets
8 shallots, peeled and cut in half
4 medium parsnips peeled and cut into 3-inch lengths (halve the thicker end pieces lengthwise)
6 carrots, peeled, halved lengthwise
2 tbsp rosemary leaves, chopped
1/2 cup walnuts, chopped and toasted
6 cups mixed greens, such as arugula, radicchio, endive, Frisee
Brown Derby Vinaigrette, see recipe below
Salt and freshly ground pepper
Preheat your oven to 450*F.
Place the beets on a piece of aluminum foil and drizzle with one tablespoon olive oil.
Wrap in foil and bake until beets are tender, about 30 to 45 minutes. Allow to cool and then rub off skins with paper towels.
Cut beets in half, marinate with a tablespoon of vinaigrette and reserve.
Toss the shallots, parsnips, and carrots in a large bowl with remaining three tablespoons of oil and rosemary.
Season the vegetables well with salt and pepper. Spread them out onto a baking sheet and roast until tender and golden brown, about 30 minutes.
Transfer to a bowl, then, add the walnuts, raisins, parsley and greens.
Toss together with just enough vinaigrette to dress the leaves lightly.
Brown Derby Vinaigrette Dressing
In a bowl whisk together the red wine vinegar, balsamic vinegar, worcheshire sauce, lemon juice, salt and honey until salt dissolves.
Whisk in the mustard. Whisking constantly, slowly drizzle in the oil until fully incorporated.
Makes 4 to 6 servings and two cups of dressing.
Recipe provided by Canadian chef Lynn Crawford.