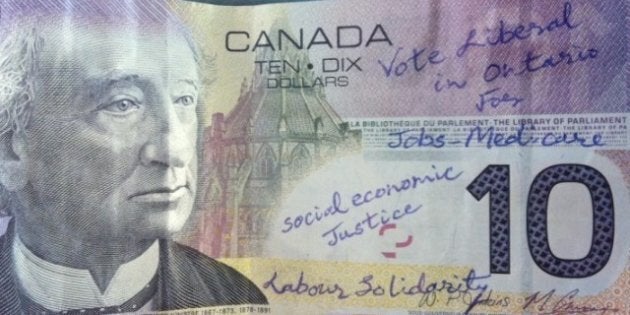 Here's some change and a political message too.
That's what Ottawa resident Peter Hall encountered at a local Subway restaurant this week when he reached for his change.
On a $10 bill handed to him was a handwritten note urging Ontario voters to cast their ballots for the Liberal Party.
"Vote Liberal in Ontario for Jobs — Medicare, social economic Justice, Labour Solidarity," was scribbled on the bill.
"Labour Solidarity in Canada," it said on the back.
A perturbed Hall went to his local Progressive Conservative candidate Lisa MacLeod's office and asked the volunteers there what to do. They recommended he report the incident to the riding's returning officer Molly McGoldrick-Larsen.
"She had never heard of this happening before," Hall said.
"I don't know what the law says, but I think that defacing money is a crime, well, it is not something you are supposed to do. And it seems to me that if I was running for office, this would be a violation of the code of conduct for running an election," Hall said.
"In it by itself, there isn't much meaning to it, but if there are many (such bills) in the money system, then it becomes all of a sudden meaningful," Hall said.
An Elections Ontario spokeswoman declined to tell HuffPost whether other such bills had been reported.
"It is our policy not to discuss complaints that we may or may not have received," Julia Bennett said.
"In order to determine whether or not there has been a violation of Ontario's election laws we need to take into account all the relevant circumstances, for example what the activity was, who was involved or responsible, when it took place and why it took place," she said, noting that concerns could be reported in writing to Elections Ontario.
The Criminal Code states that someone defacing a current coin is guilty of an offence punishable on summary conviction.