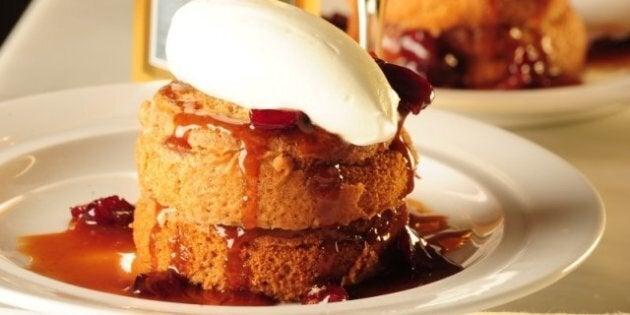 This pumpkin sticky toffee pudding recipe is a great way to replace traditional pumpkin pie at a fall dessert table.
1/2 cup unsalted butter, melted and cooled
3/4 cup packed light brown sugar
3/4 cup canned pumpkin purée
1 tsp pure vanilla extract
1/2 cup dried cranberries
1/4 cup dried cranberries
To make the sticky toffee puddings, preheat your oven to 400F.
Spray a muffin tin pan with non-stick cooking spray.
In a large bowl, whisk together the flour, baking powder, baking soda, spices and salt in a large bowl. In a separate bowl, whisk together the butter, brown sugar, pumpkin purée, buttermilk, eggs and vanilla.
Add to dry ingredients and stir until just until combined. Divide the batter among the muffin cups. Bake until a tester comes out clean, about 20 minutes.
Cool slightly in the pan before turning them out for serving.
Meanwhile, make the sauce. In a medium saucepan, cook the sugar over medium-low heat, stirring slowly with a fork until melted and pale golden. Cook the caramel, gently swirling the pan, until deep golden.
Remove from heat and carefully add the cream and butter. Return to heat and simmer, stirring until the caramel is dissolved. Remove from heat and stir in dried cranberries.
To serve, slice the puddings horizontally in half. Pour the cranberry caramel sauce between the layers.
Top puddings with a large spoon of whipped cream and a sprinkle of dried cranberries.
Makes 12 servings of pudding.
Recipe provided by Canadian chef Lynn Crawford.