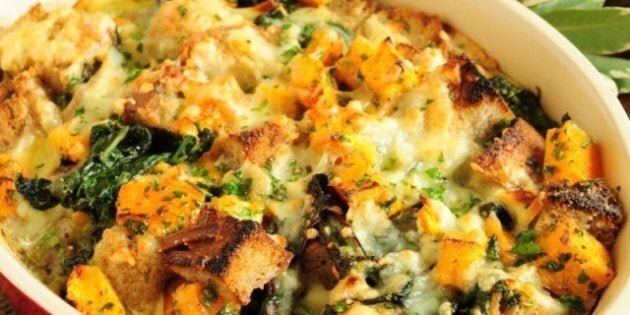 This recipe may not be a traditional holiday dish, but squash is definitely a traditional fall vegetable. This recipe is also an alternative side dish if your guests or family members are vegetarians.
4 cups peeled, diced 1inch inch cubes butternut squash
2 sprigs thyme, leaves picked
2 tbsp sweet and smoky mustard
10 cups day old sour dough bread, torn into 1 inch pieces
4 large shallots, finely chopped
4 cups Kale, ribs removed and coarsely chopped
2 cups Old cheddar cheese, grated
In a large bowl toss the diced squash with one tablespoon of olive oil, thyme and kosher salt, then place onto a baking sheet tray.
Bake squash until tender, about 20 to 25 minutes.
Reduce the oven temperature to 350* F.
Whisk eggs in a large bowl, add the cream, wine, mustard and season with salt. Add the bread pieces and gently fold into the egg mixture. Let soak for 30 minutes stirring occasionally.
In a large pot over medium-high heat, add two tablespoons of oil and sautée the shallots until soft.
Add kale, cover and cook for two to five minutes.
Uncover and stir until kale is wilted, but still bright green.
Generously butter a 13 by 9 by 2" baking dish.
Using a slotted spoon, transfer half of the bread from egg mixture to the baking dish.
Spoon half the kale over the bread. Spoon half the squash over the kale and bread mixture, sprinkle with half the cheese.
Repeat with remaining bread, kale, squash and cheese.
Pour remaining egg mixture over the bread pudding.
Cover with foil and bake for 20 minutes.
Then remove foil and bake for another 20 minutes until custard sets and the bread feels springy to touch.
Recipe provided by Canadian chef Lynn Crawford.