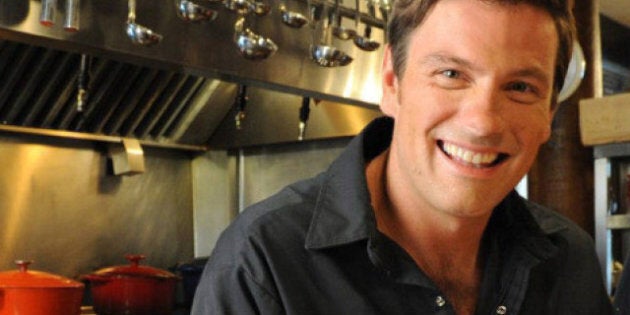 What does it take to become an Iron Chef?
"It's always about getting creative and trusting yourself more in the kitchen," says celebrity chef Chuck Hughes. The Montrealer will be the first Canadian chef to compete on Food Network Canada's The Next Iron Chef: Super Chefs. He's also the man who became the first Canadian to beat the legendary Bobby Flay on Iron Chef America.
For him, there are no basic rules to cooking -- outside of the obvious ones like ovens are hot and sharp knives can injure. In his kitchen, it's all about having fun. "That's the beauty of food. You can express yourself as much as you want. You can let your personality shine through."
Another key tip to help you become a connoisseur in the kitchen? "Follow recipes, but try and add a little of your own flair to each dish. If you like more garlic, add more garlic. If you want things to be spicier, add more spices. It's about making a dish that's right for you and your guests. Get inspired by cookbooks, but have fun. Cooking seems serious, but you need to enjoy what you're doing."
And what are the top five ways you can get more out of your whipping-up-meals experience?
Check out Hughes's top five kitchen must-haves:
"First, buy a really sharp knife. That's the key. Creativity can come, but having good knives will make all of the difference. It will help you slice foods better and in unique ways (like julienne). It's also much safer to use a sharp knife than it is to use one that's dull. People opt to spend cash on gas stoves and then forget about knives, but they are what will bring your cooking to the next level."
He also suggests investing in a solid cutting board -- it will help preserve your knives and will ensure the food you're slicing and dicing doesn't slip mid-chop.
Another suggestion is to set your kitchen up like professional chefs in restaurants do. "I line up a dish's ingredients in small bowls in front of me so they're within reach." He also opts for fresh herbs instead of dried ones. "Fresh herbs give off a great fragrance and really put you in the mood to create a fabulous dish." They also add incredible flavour to whatever you're making."
The last thing you should do? "Play music. Regardless of what it is, tunes will help you get into the groove of cooking. And when you're inspired and feeling good, that energy will naturally be reflected in the dishes you're creating. It's all about building a safe and fun environment for you to express yourself in."
The Next Iron Chef: Super Chefs premieres Monday, October 31 at 10 p.m. ET/PT on Food Network Canada. You can also check out the work Hughes is doing with Hellmann's Real Food Movement.