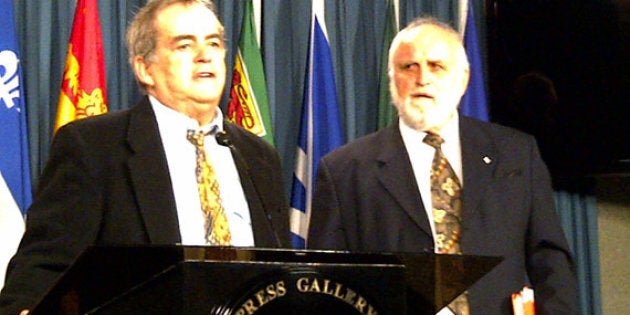 Air Canada, which already has a reputation as a frequent violator of linguistic obligations, took another beating Tuesday when the head of a French-language group and a local union representative accused the airline of more discriminatory practices.
"The arrogance and the linguistic aggressions of Air Canada are frequent," Jean-Paul Perreault, the president of Impératif français, told reporters Tuesday at a news conference.
"Recently, Air Canada submitted a collective agreement that is only available in English," he said. But what's worse, Perreault said, was the inclusion of a line stating that although collective agreements would be available in English and French six months after ratification, "for this collective agreement, the timelines for the publication of the French version is waived."
Because of this line, Perreault said, francophones had been forced to renounce their right to be treated equally.
The action was especially egregious, he said, because the document had been signed by two employees at Air Canada charged with upholding language rights. The union, CAW, he added, was equally "complicit" in the action because it signed off on the June 16, 2011, document accepting the unilingual version.
Normand Veillette, an Air Canada customer service representative and a vice-president with CAW at the Montreal--Trudeau airport, said he had asked Perrault to step in because he was tired of being treated unfairly.
"I am asking the Canadian population to help me," he said.
People work in French but they are asking themselves why they now have bosses that only speak English, he said.
"It's brand new for us, it only a few years now, it wasn't like this before," Veillette said. "People who speak French told me they find it absolutely absurd."
Air Canada, Perreault and Veillette said, should take all necessary steps to ensure a French language version of the document is available.
"Nowhere else in the world would we see a document published in a language other than the national language -- since we have two it must be in both languages," Perreault added.
He called on the federal government to amend its laws to ensure that public or private companies who operate with a federal charter in Quebec be obliged to respect the province's French-language charter.
This, Perreault said, would prove that the federal government is serious about bilingualism and would help ensure a trickle down effect for bilingual services in other regions where francophones live in a minority situation.
"If (the Canadian government) wants and recognized the Quebecois nation in united Canada, I do not think it is by maintaining discriminatory practices, exclusionary practices and aggressive practices like those of Air Canada," Perreault said. "Those practices against the Quebec identity and against the francophonie, force us and bring us to recognize that official language law is ineffective."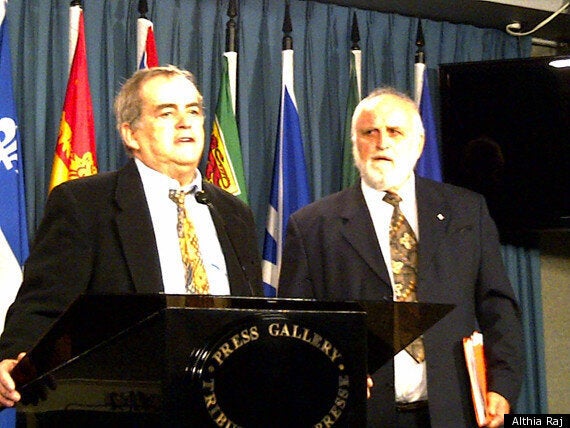 In his own words: Normand Veillette, left, a customer care representative and vice-president of CAW at Montreal--Trudeau airport.
"In Montreal, we are used to have a bilingual situation. All management speaks fluently French, up to maybe two years ago. Then recently, I've seen degradation in the French language, I've seen bulletins mostly in English. I was involved in a manpower discussion with someone from Toronto, that person spoke only in English. I went to the manager of the airport and I said how come you don't send us someone who speaks French? He came back this year, with another fellow from Toronto, there is two of them now that only speak English. They presented me with a document only in English. It is unacceptable to me. It reaches a point where, what should I do? Montreal is French? Quebec is French? People have learned to speak French and they are happy about it, they know the culture, they worked through it. And now they (Air Canada management) say 'well, it's not that important. You won't have your contract (in French), we'll send you someone who only speaks in English.' What is this?"