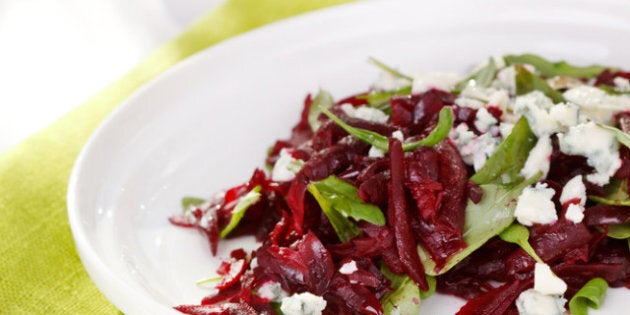 If you're looking for the perfect fall side dish, this local, timely recipe has to be it. Not only are beets in season, their slippery texture pairs fantastically with creamy, rich blue cheese.
Beets are also incredibly good for you. Here are some tips on selecting and storing them.
-- The beet "root" is the actual red baseball-size vegetable at the bottom of the stems. However, the beet "greens" are the most nutritionally dense part of the vegetable.
-- Choose beets whose roots are firm. Leaves should never be shriveled or dehydrated. If the beets are organic, you need to peel the root prior to cooking.
-- Make sure the beet root is firm to the touch -- about as firm as an apple. Avoid beets with any indication of possible mold growth such as soft spots.
-- Beets will stay fresh if properly stored for up to three weeks.
-- When you get your beets home, it's best to cut the greens away from the roots right away. Leave about two inches of the stem attached to the root.
-- There's no need to wash the beets prior to storing them, just make sure you wrap them tightly to prevent them from going bad. Store in the refrigerator.
-- The beet greens will last four to five days after they've been cut from the root, so eat them first. Store them just like you would any other leafy green. They wilt very easily, so be sure as little oxygen as possible reaches them. Place in the refrigerator.
-- You can freeze your cooked beets, but don't freeze them raw because they're so moisture-rich they'll turn into a soggy mess once thawed.
5-6 medium size beets, washed and cubed
2 tbsp blue or goat cheese
1-2 tbsp extra-virgin olive oil (evoo)
1/2 lemon, freshly squeezed
Sea salt and pepper to taste
Preheat oven to 375F. Place beet in a baking dish with a little bit of water, just enough so they don't dry out (about a quarter of an inch). Cover the dish with a lid. Bake for 50 to 60 minutes until soft or fork tender. Remove from heat and let cool completely.
If you want your salad to be served cold, cover the beets and store in refrigerator overnight or for at least three hours.
Place your arugula into a big salad bowl. Place the beets on top, sprinkle with walnuts, blue cheese, drizzle with olive oil and fresh lemon juice. Season with sea salt and pepper.
Serves two to four as an appetizer.
Joy McCarthy, registered holistic nutritionist and health coach of Joyous Health, loves to inspire others to eat well and live well. She also teaches an array ofwellness workshops and co-creator of Eat Well Feel Well, a six-week nutrition and yoga course in Toronto. Joy welcomes your questions or comments.
Please note: All of these recipes are created in my joyous kitchen with the healthiest ingredients. I'm not a calorie counter or a professional chef -- I'm a nutritionist who loves to cook and bake, and I'm delighted to share my creations with you.