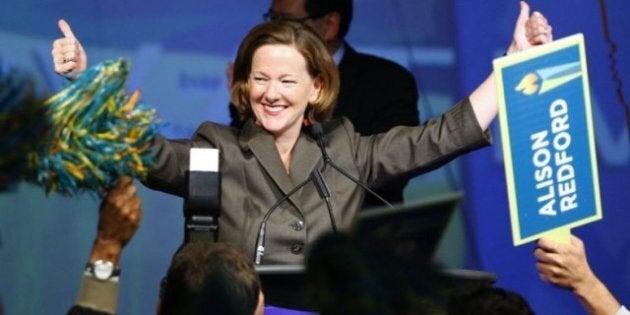 With Alison Redford at the helm, the Progressive Conservatives are back in their comfort zone, holding a huge lead over their rivals in Alberta.
As the MLAs begin what will be a short fall session in Alberta's legislature this week, many are already thinking about the next provincial election, rumoured to be called before June 2012.
The Wildrose Party, currently the third party in the legislature, does have a strong lock on second place in Alberta, and is likely to form the province's next Official Opposition. But this is a far cry from the double-digit lead Danielle Smith's party enjoyed for a brief period last year.
Wildrose dropped in the polls as the PCs went through their leadership race. In mid-September, ThinkHQ Public Affairs found the Tories leading Wildrose with 40 per cent to 24 per cent, representing a drop of six points for Wildrose since July.
A poll by Lethbridge College taken on October 1 and 2, just as party members were voting for their next leader, gave the PCs an even larger lead, with 48 per cent to Wildrose's 16 per cent.
Compared to their poll taken a year ago, this is a drop of eight points for Smith's party and a gain of 12 for the Progressive Conservatives.
But these gains are not just the results of a leadership race. The latest numbers from Angus-Reid, taken between October 17 and 19, after Albertans had a few weeks to digest the news of their new premier, put the PCs at 44 per cent support to 22 per cent for Wildrose. Compared to Angus-Reid;s last poll taken in February 2010, that is a massive 20 point drop for Wildrose, most of which benefited the Tories.
There is another storyline in Alberta's public opinion polls, however. The New Democrats have been boosted throughout the country thanks to the performance of the federal party, and Alberta is no exception.
Support for the NDP in Alberta has been pegged at 13 per cent by Angus-Reid and 16 per cent by Lethbridge College. Both polls show the party led by Brian Mason at over 20 per cent support in Edmonton, where their two MLAs were elected in 2008. For a party that hasn't done much better than 10 per cent in any election in over 20 years, this is a significant shift. And in the Lethbridge College poll, the New Democrats narrowly beat out Wildrose for the runner-up spot.
Whether or not the New Democrats can sustain these levels of support and finish third or even second in the popular vote remains to be seen. They are generally in the same ballpark as the provincial Liberals, who will not give up their role as the Official Opposition easily under new leader Raj Sherman.
But if Albertans do head to the polls before next summer, the outcome is far from pre-determined. Though the Progressive Conservatives are likely to maintain their unbroken run of election victories stretching back to 1971, there is enough going on in the province to make it one to watch.
Éric Grenier taps The Pulse of federal and regional politics for Huffington Post Canada readers on most Tuesdays and Fridays. Grenier is the author of ThreeHundredEight.com, covering Canadian politics, polls, and electoral projections.