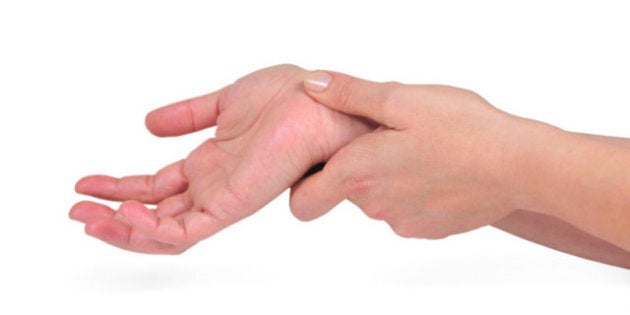 TORONTO - Arthritis has been called the invisible disease, but there's nothing imperceptible about its painful impact on patients' lives or the economic fallout for Canadian society.
A new report by the Arthritis Alliance of Canada says more than 4.6 million Canadians are affected by arthritis. And it calculates that the two major forms of the joint-destroying disease cost the Canadian economy a staggering $33 billion last year in health-care expenditures and lost productivity.
The report, entitled The Impact of Arthritis in Canada: Today and Over the Next 30 Years, predicts that figure could rise exponentially in the coming decades as a higher percentage of Canada's aging population is afflicted by the disease.
"I think people will be surprised by this, yes," Dr. Dianne Mosher said of the $33-billion price tag. "But if you look at the sheer number of people who have osteoarthritis — there's 4.4 million Canadians with osteoarthritis and in the next 30 years there will be 10 million — it's a significant portion of the population."
Mosher, a Calgary rheumatologist who co-authored the report, said the pain of both osteo- and rheumatoid arthritis can lead to a loss of mobility and an inability to perform everyday tasks most people take for granted.
"Certainly some of it is because the joints are affected that they would have difficulties walking, they'd have difficulties standing," she said, adding that chronic pain can disturb sleep and lead to fatigue and depression.
Yet despite the millions of people suffering and the economic repercussions, arthritis in all its myriad forms gets little attention compared with diseases such as cancer and cardiovascular disease.
That may be in part because those diseases are life-threatening, while arthritis for the most part threatens patients' quality of life.
"In our specialty, our patients don't die," said Dr. Claire Bombardier, director of the rheumatology division at the University of Toronto.
"Our patients live in pain and often in silent pain, invisible pain, and it becomes obvious when they break down. They have to stop working or their husbands leave them. There are all sorts of impacts on life: people have to move house (because) they aren't able to go up and down stairs, they're not able to go to the toilet, they need other people to help them."
Anne Fouillard, 60, lost seven years of her career as an international development consultant because of osteoarthritis, which began in her knees when she was about 30, then moved into her hips and back.
"At the worst, you're completely incapacitated," she said from her home in Kingsburg, N.S. Pain and stiffness in her joints and extreme fatigue forced her into a wheelchair for two years before she had both hips replaced at age 51, followed by spine-fusion surgery four years ago.
Being unable to work left her feeling "invalidated" and she figures the lost years cost the equivalent of half a million dollars.
"That's what it cost me and what it cost the state by not having me as a fully functional human being," said Fouillard, explaining that being unable to work meant she wasn't contributing taxes to government coffers.
Mosher said the Arthritis Alliance is working on a strategy to prevent the condition and improve treatment, especially for osteoarthritis, which affects joints such as knees and hips by distorting the bones and inflaming surrounding tissues.
"We don't have the magic bullet or the magic pill for the pain," she said, adding that more effective medications need to be developed. But a combination of muscle-strengthening exercises and physical activity can help control the symptoms.
"Joint replacement surgery makes a huge difference for people who have hips and knees replaced ... in returning their lives towards normal," Mosher added.
On the prevention side, the report says a strategy is needed to reduce high obesity rates in Canada, as carrying too many pounds can lead to arthritis in weight-bearing joints like the knees.
For rheumatoid arthritis, an autoimmune disease that causes inflammation in joints throughout the body, highly effective drugs are available. But more needs to be done to get patients properly diagnosed and started on treatment early, she said.
The Arthritis Alliance, which released its report Thursday at a scientific conference in Quebec City, is calling on government policy-makers, the corporate sector and the insurance industry to join with advocacy groups in creating a national strategy to reduce the burden of arthritis on Canadians.
The first step, said Mosher, is to change society's view of arthritis as something that people just have to live with.
"I think we've got to take the smile out of arthritis," agreed Fouillard, saying she is tired of people with arthritis being told "if you just keep moving, everything's going to be OK.'
"I think it's time to get serious and to treat it like the debilitating disease that it is."