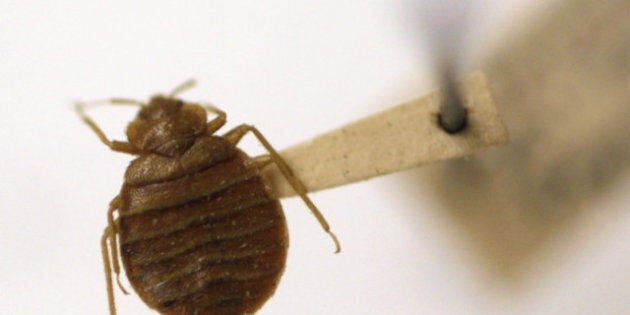 A Vancouver company is working to develop a scent that could drive away bedbugs.
Michael Gilbert's company SemiosBIO Technologies hopes to thwart bedbugs using pheromone-based biotechnology, natural scents that can can either attract or repel.
"It sends out a signal to all bedbugs to go in the other direction — just reverse and get away," Gilbert said.
Bedbugs are small, flat insects that feed on human blood. They don't carry any known blood-borne diseases, but leave itchy bites all over the human body. The bites can lead to infections if the bitten areas are scratched, and bedbug saliva can trigger allergic reactions.
While bedbugs are not considered dangerous, public health officials consider them a nuisance.
Natural-based repellent
Researchers at Gilbert's Vancouver lab are testing pheromones to see which natural scents repel bed bugs.
"We have at least seven now that will repel for at least 48 hours and that's without our technology, which will lengthen that exposure," he said.
In recent weeks, bedbugs have turned up in libraries in at least three Metro Vancouver communities.
For decades, the best way to beat the bugs was with pesticides, but since DDT and other effective but toxic pesticides have been widely banned, it's almost become a losing battle.
"Pheromones have been used in agriculture applications for the past 30 years," Gilbert said. "This is the first time it's being applied to bedbugs."
Gilbert plans to eventually market a pellet form of the products to put in suitcases or in hotel rooms to keep bedbugs away. Currently in the advanced stages of development, Gilbert said the product should be on the market in the near future.