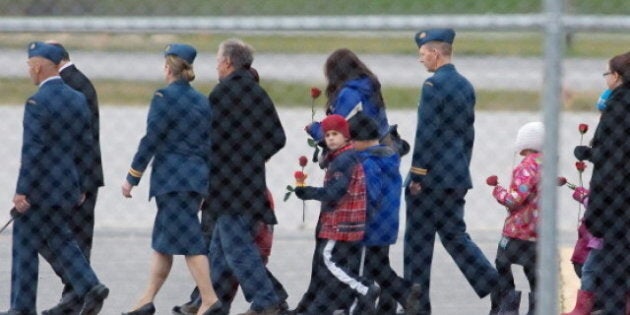 One of the survivors of last week's fatal rescue mission near Igloolik, Nunavut, describes his rescuers as heroes.
"The one who came to us truly saved our lives, bailing water from the raft. We were helpless and he saved us," said David Aqqiaruq.
The tragic day began when Aqqiaruq and his 17-year-old son Leslie went walrus hunting last Wednesday, about 90 minutes from Igloolik.
Both are experienced on the land, and both survived a rescue about two years ago from the same spot – the Fury and Hecla Strait between Baffin Island and the Melville Peninsula.
"Since when I was really young, I've been out with my dad," said Leslie.
The two set out in good weather Wednesday morning and were soon successful, bringing down a walrus to take back to Igloolik to share with their family and the community.
But the weather deteriorated. The winds rose, temperatures fell and sea ice began to form.
"We tried to go home, but the ice was too thick and we couldn't move. It was really a big surprise."
When the pair didn't return Wednesday night, searchers set out from Igloolik. The Aqqiaruqs had registered their destination and had an electronic signal device with them, but nobody could find them in the moonless, snowy Arctic dark. All night and into the next day, Leslie and his father, who were in an open aluminum boat, were tossed on stormy seas in blizzard conditions that included 70 km/h winds. Their camp stove, the only source of heat, soon ran out of fuel.
"I was scared," said Leslie. "I thought we were going to die."
Eventually, rescue planes spotted them and tried to drop a phone, but the two couldn't get to it. On Thursday morning, crews dropped a survival boat, but even though the Aqqiaruqs were able to reach it, that didn't end their ordeal.
"There was a little food but we were really cold and we couldn't really eat it," said Leslie. "Our hands were cold. It was really hard to open [the packages]."
A stove in the survival boat got too wet to light. Their original boat slowly sank beneath the ice, taking all their gear with it.
Eventually, three search and rescue technicians, including Gilbert, parachuted into the water.
"Three soldiers were dropped off with parachutes from the Hercules that was sent to save us," Aqqiaruq said. "One of the soldiers made it to the raft but we couldn't see the other two."
The three men in the raft were eventually rescued by a Cormorant helicopter from Gander, N.L., along with one of the search and rescue technicians who was in the water.
The two soldiers left in the water were picked up by the helicopter. One of them, Canadian Forces Sgt. Janick Gilbert, died during the mission.
Details are unclear about how that rescue took place, but the military said Gilbert was "unsuccessful" parachuting into the water. The RCMP indicated he was found non-responsive in the water. Military officials said Monday the death remains under investigation.
Aqqiaruq and his son said they never saw Gilbert and only found out about his death later.
"I am so sorry we put so many people through so much and especially the soldier who sacrificed his life to save us," he said.
Leslie said he saw the airman's unresponsive body on board the chopper.
"He wasn't breathing in the helicopter."
Later, at the hospital in Iqaluit, Leslie learned his rescue had cost Gilbert his life.
"If you could tell that rescue team, I feel sorry for them," he requested.
Leslie, who was resting at his home in Igloolik, said he keeps crying when he recalls the dramatic ordeal.
"It was really awful," he said, sobbing through his halting English. "I feel so sorry for the rescue team, really bad."
David Aqqiaruq says he and his son will both recover over time.
The military says the incident is still under investigation.