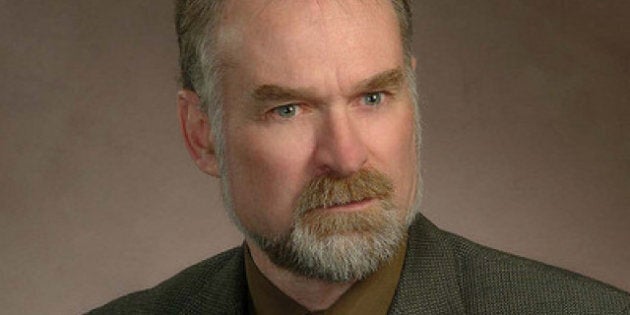 The government's choice for Canada's next auditor general is promising to be proficient in French within a year.
Prime Minister Stephen Harper is recommending Michael Ferguson, who worked for 11 years as comptroller general, auditor general, and deputy minister of finance in New Brunswick, to be Canada's next government watchdog. But despite spending more than a decade working in the country's only bilingual province, he can't converse in French.
It's a requirement for the job that the auditor general be fluently bilingual in French and English.
It's the second nomination this fall where a candidate isn't fully bilingual. Michael Moldaver, one of two Harper nominees to the Supreme Court, doesn't speak French. He has also committed to improve his language skills.
Ferguson admitted that he has work ahead of him to be able to carry on a conversation with MPs or his own staff.
"It will be a number 1 priority for me. I have been working on it. I am not a beginner in the language. I still have lots of work to do in it, but I think that I will be able to get to a level of proficiency within a reasonably short period of time, I would say within the first year," he said.
The Public Accounts Committee is questioning Ferguson before his nomination is final, but the government doesn't need approval from MPs to name Ferguson to the position.
Ferguson said his reading and listening comprehension is fine, and that he's tested as having an aptitude for languages, but he wasn't able to answer questions at the committee without simultaneous translation.
Ferguson is the government's choice to replace former auditor general Sheila Fraser, an enormously popular watchdog who first drew the country's attention to the sponsorship scandal under the Liberal government.
She also flagged problems with the government's military procurement, particularly with a new set of much-delayed and over-budget helicopters, and spending for the renovation of Parliament Hill's West Block.
Ferguson said his work and reputation in New Brunswick is a matter of public record, and he's been told that he conducted his work with integrity. He said a search firm contacted him to see if he was interested in applying for the job, and he never looked at the requirements.
Conservative MP Mark Warawa led Ferguson through several of the other requirements for the job, which Ferguson agreed he meets. Warawa said Ferguson's accounting skills are exemplary.
Ferguson also promised he would uphold any of the recommendations Fraser made during her term. He said the goal of the auditor general's office is to help make Canada better.
At one point, Ferguson stumbled in English and joked that he couldn't even deliver a message in his first language.
The committee has the chance to report back to the House of Commons with its recommendation in favour of Ferguson or opposing Ferguson.
Conservative MP Andrew Saxton tried to move a motion to vote before the end of the meeting, but the committee had already decided to ask questions until the two-hour meeting time expired.