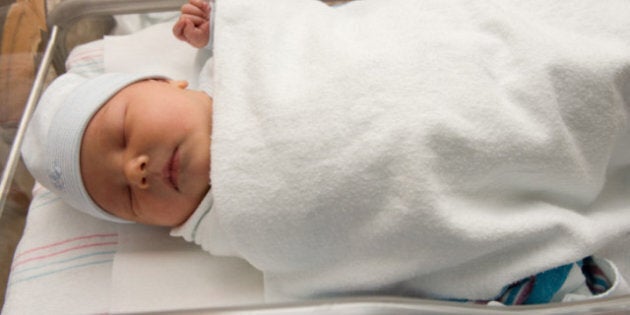 As the world's population reaches an estimated seven billion, experts say the future for a child born today in Canada risks being cut short by obesity but enhanced by advances in medical research.
On Monday, the seven-billionth child in the world is expected to be born.
Hours after Ryden Springman was born last week in Toronto, his parents said they were excited to welcome their first son to the family.
"He is born at an age with great health care," said his father, Harley Springman. "He is born to a family that will give him lots of opportunities. We take our health very seriously in our family, so he will grow up eating well just like his big sister."
All parents can do is to try to give their children a good start, said his mother, Caryn Hirshhorn.
Still, babies like Ryden face a life expectancy of at least four to nine months shorter than they would be if obesity was not widespread, U.S. researchers say.
In 2005, U.S. researchers projected in the New England Journal of Medicine that life expectancy at birth and at older ages could level off or even decline within the first half of this century because of the rise in obesity rates.
The projection means that averaged across all members of the population, this generation could be the first in history to live less healthful and shorter lives than their parents.
"Knowing that there's an epidemic of childhood obesity and that those children are likely to grow up to be obese adults, we have a concern that in fact they may be shaving years off their life expectancy," said Dr. David Allison of the University of Alabama, Birmingham.
That's because as obesity rates rise, people risk developing heart disease, kidney problems, blindness and ultimately death at younger ages, the researchers said.
Other experts have questioned those projections, pointing to advances in medicine, such as the promise of stem cell treatments, coupled with lower rates of harmful behaviours like smoking, which could counteract obesity.
William Stanford, a stem cell scientist at the University of Ottawa Research Institute, said he hopes the seven-billionth baby is born in a country free of war and with good nutrition, factors that contribute to quality of life.
"I think they will have much more control of their own medical history," Stanford said. "They'll be able to be very engaged in their own treatment and preventing disease. They will have much more knowledge to proceed and they'll have many more cures for common diseases today."
Centenarian Gail Ward of Toronto credited not smoking, a positive attitude, a sense of humour, interest in activities such as hockey and physical activity with her long and healthy life.
"No matter what you are doing enjoy it, even if you are scrubbing floors, enjoy it," Ward advised people of all ages.
Ward also noted differences between children today and when she was a child: fewer home-cooked meals and less exercise.
"Children don't play, they watch TV," she said. "They don't have the exercise like we did. We used to skip, so it makes a difference."