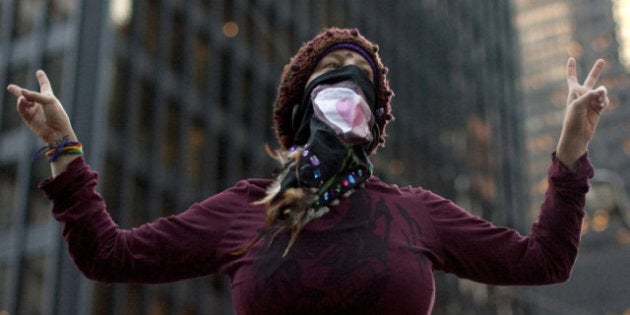 As Occupy Toronto protesters begin their third week of camping in a downtown park, the head of a neighbourhood business association said the gathering is starting to affect local merchants.
Part of the larger Occupy movement, the Toronto protesters have set up a camp with dozens of tents at St. James Park, located at the corner of King Street East and Church Streets.
The Occupy movement has no single objective, but addressing economic inequality and corporate greed are among its stated claims. Similar protests have been staged in other cities.
Occupy Toronto protesters began camping in the park on Oct. 15 and have since staged a handful of peaceful, loosely organized marches and demonstrations in the city.
George Milbrandt is the owner of the C'est What? café and head of the St. Lawrence Market business improvement area.
In an interview on CBC's Metro Morning on Monday, Milbrandt said while he respects their right to protest, he said the campers are keeping others from using the park.
"The main problem is that [the protesters] have taken away our neighbourhood park," said Milbrandt. "You can't walk your dog, you can't read a book on a bench. It's a little frustrating in that regard.
"I don't think we're the people that are being targeted by the protest," he said. "We just happen to have a really nice neighbourhood park that is conducive to camping out in."
'Ultimate Canadian protesters'
He also said the protests have been humorously tame.
"The protesters are the ultimate Canadian protesters," he said. "They're polite, they've got clean campsites, they even have a library there. They would be model neighbours if they weren't camping. Maybe we should turn this thing into a tourist attraction: Come see our polite protesters."
Milbrandt suggested that if city officials don't move the protesters out of the park they should consider hosting the Occupy encampment at Nathan Phillips Square.
"It's easy to be tolerant for days or weeks, but I'm not sure what the end goal of the protesters actually is," said Milbrandt. "If the end goal is for the world to be a better place, we're going to be a long time waiting for it and where does that leave us in the meantime?"