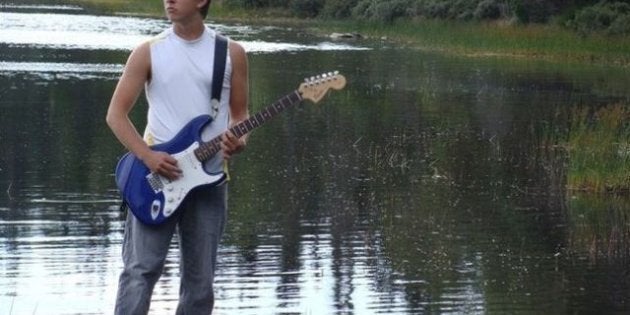 As thousands of Grade 9 students tag along with mom or dad at work Wednesday, Jacob Halloran will be spending time with Gov. Gen. David Johnston and the Speaker of the House of Commons.
Halloran, 14, of Guysborough, N.S., scored the sweet gig that also allows for some sightseeing time in Ottawa by winning the Ultimate Dream Job Contest.
"It's amazing," Halloran said Tuesday in anticipation of meeting Canada's Governor General. "It's just going to be a great time. I hear he's a great guy and he loves hockey so it should be fun."
He won the most votes online for his submission of a photo of himself in his backyard, with a lake behind him, holding his guitar. The caption describes how he's been inspired by many guitarists from various time periods.
It's the 17th year for Take Our Kids to Work Day, and about 200,000 students from all parts of the country are expected to take part, with more than 75,000 employers welcoming them to a wide range of workplaces. Not all students go to work with a parent; some accompany a relative or family friend.
"The program is really about developing a sense of possibilities in young people, of options, about thinking of the consequences of making decisions about which credit I'm going to pursue, and which credit I'm not going to pursue," said Veronica Lacey, president and CEO of The Learning Partnership, which runs the event.
"If you drop math in Grade 11, there are so many doors that are closed to you in terms of what courses are available in post-secondary, what apprenticeship programs."
Lacey said students are encouraged to see a range of future career paths.
"Not everybody has to be an engineer, a teacher, a lawyer. There are many, many occupations that are available for young people to pursue their passion, but all of them require a certain number of critical skills."
The one thing the organization wants to impress upon the students is that dropping out of high school is "an absolute dead end," she said.
Lacey likes hearing about kids who tell their parents that it's interesting to see what they actually do — and the people they deal with and the challenges they have at work.
"The feedback that we get is that kids develop a very serious appreciation for work, all work, whether your father is working on an assembly line or your mom is working in an office. These people work on your behalf."
Two teens taking part in the program died in the Niagara region in 2000 when a utility vehicle they were on collided with a parked trailer. Lacey said that since then, the organization has focused aggressively on health and safety, and the program is stronger as a result.
The range of student experiences at Take Our Kids to Work day is vast. For instance, the kids will be in operating rooms, visiting the vaults at banks where gold is stored, working with police officers, airlines and media.
While Halloran — who earns marks in the 90s — really enjoys his music, he's also looking at the possibility of a career in business and finance.
"But you never know, I could get a big break. My dream job would be sort of playing like Metallica, going across Europe and touring everywhere and playing music to the fans who love the music."
"You never know, I guess. Could be."