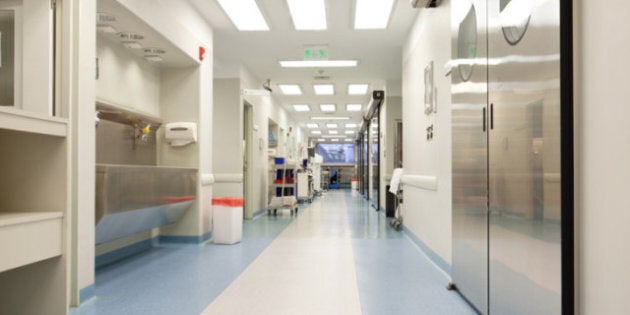 Spending on health care is forecast to reach $200.5 billion this year, up $150 per Canadian over last year, according to a new report.
While health care spending continues to grow, the pace of the increase is slowing, according to Thursday's report, National Health Expenditure Trends, 1975 to 2011.
It forecasts that spending will rise by four per cent in 2011 over last year to $5,811 per Canadian --the lowest annual growth rate in the last 15 years despite a larger and aging population.
Hospitals made up the largest category of public-sector spending at 37 per cent. Paying health professionals such as nurses represented 60 per cent of that amount.
Similarly, after hospitals, physicians were the second-largest driver of public-sector health-care spending at 20 per cent. Hospital spending does not include physicians, who bill directly to provinces and territories.
Both the number of doctors and use of their services increased.
"Over the last decade, a host of factors may have contributed to the compensation hike for physicians and other health professionals," said John Wright, president and CEO of the Canadian Institute for Health Information.
"For example, increased competition between provinces to recruit and retain health providers, tighter credentialing of health professionals and stronger bargaining positions due to increased government revenues may have all played a role."
Drugs were the third-largest driver of costs between 1998 and 2008. Volume was the biggest factor behind that increase, mainly for blood pressure, cholesterol-lowering and gastrointestinal medications.
New cancer drugs and immunosuppressants were two of the fastest-growing drug classes.
The authors said drug spending is slowing because:
Brand name drugs are coming off patent and are being replaced by cheaper generics.
Some provinces have introduced generic price controls.
Fewer blockbuster drugs are coming on the market.
But per capita spending on drugs is higher in Canada than other developed countries, except for in the U.S.
The report's authors focused on health-care spending over the last 35 years, but they also noted issues to monitor for the future.
They include the state of Canada's economy, changes to the scope of practice of health professionals (such as permitting pharmacists to prescribe some drugs) and population growth and aging.
Baby boomers, Canada's largest population group in recent history, are beginning to turn 65 years old.
The common belief is that an aging population will fuel demands for health-care services. Yet population aging has been a "very modest cost driver overall," the authors said.
"Is aging a threat to our health care system?" Jean-Marie Berthelot, CIHI's vice president of programs, told reporters. "It's very difficult to answer yes to that question."
The aging population will be a factor for years so there is time to react to it, Berthelot said.
Overall, the report's authors divided growth of public-sector health spending since 1975 into three phases:
A growth phase from 1976 to 1991.
A short period of retrenchment and disinvestment from 1992 to 1996, when governments dealt with fiscal deficits.
A growth phase that averaged 3.5 per cent per year, after adjusting for inflation, from 1997 until 2008, a period when Canadians said health care was a top priority.