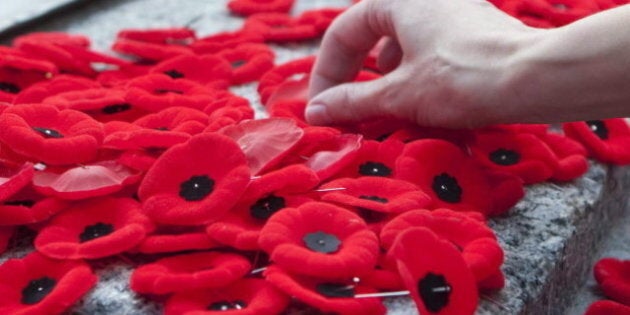 Police in Toronto —and now in Hamilton, Ont. — are trying to track down thieves who made off with poppy donation boxes.
The first incident happened late Monday night in Toronto when a donation box was stolen from a pizza parlour on The Queensway.
On Wednesday morning Hamilton police reported poppy donation boxes were stolen from two Tim Hortons restaurants.
Police say a man placed an order at the Tim Hortons at 65 Ottawa Street North at about 5:30 a.m. and fled with two poppy donation boxes when the clerk turned away from the counter.
About 30 minutes later, police say the same thing happened at a Tim Hortons at 239 King Street West with a man matching the same description.
The suspect is described as an east Asian man in his 20s, five-foot-eight and 165 pounds with a medium build, short black hair and sporting a goatee.
He was wearing a dark blue jacket with a white stripe down the sleeves and a logo on the back, and dark jeans.
In Toronto police are still looking for a man who stole a poppy donation box from a Pizza Nova late Monday night.
A security camera image released shows the man apparently stealing the donation box from the counter at about 11:45 p.m. on Monday night.
Many business across Canada put donation boxes on their counters during the poppy campaign. The funds collected are used by the Royal Canadian Legion to support veterans.
Both Toronto and Hamilton police are asking anyone with information to contact them or Crimestoppers.