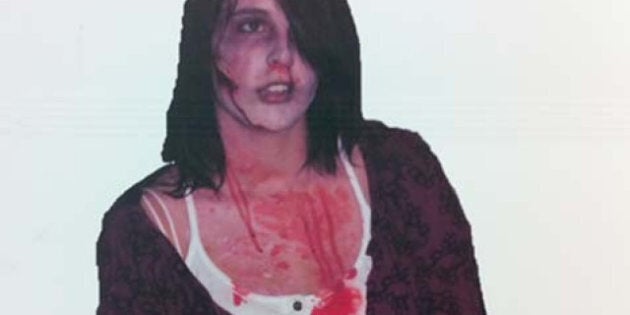 Police have released photos of a teenage homicide victim and made another plea to the public for information to help solve the killing in B.C.'s interior.
The photos distributed Thursday show victim Taylor Van Diest, 18, in a zombie Halloween costume and show the jacket she was wearing before she was fatally attacked Monday night in the community of Armstrong.
Van Diest appears in white face makeup, with fake blood smeared on her face and across her white shirt.
The picture was taken before the teen left home at about 6 p.m. on Halloween.
The other photo showed a pink jacket with a white faux-fur collar.
The young woman walked north for about eight blocks before she was assaulted, said RCMP spokesperson Gord Molendyk.
Van Diest was found severely beaten along railroad tracks running through Armstrong. She died later in hospital.
Texts suddenly stopped
"She could have been followed there," said Molendyk. "There is a possibility when she came into this area, the individual or individuals responsible could have been waiting there."
Armstrong resident Joyce Unruh said her daughter was texting with Van Diest when the messages from her suddenly stopped.
Unruh said the last message Van Diest sent mentioned "being creeped."
"Being 'creeped out', eyed, followed. Somebody was giving her the eyeball and following her perhaps," Unruh said.
Police said they've received more than 55 tips and hope the photos will generate even more.