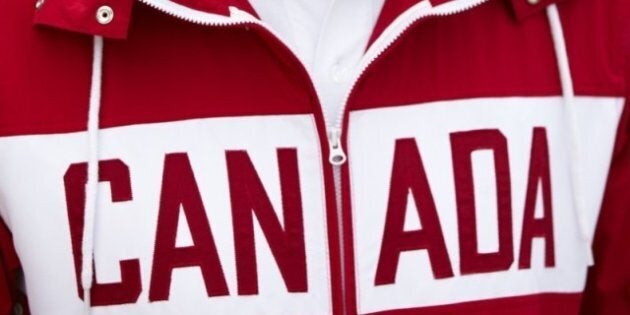 There's something to be said about being a Canadian. We can withstand winters that drop below -30C; we can withstand heat waves in the summertime without air conditioning; and we're never surprised if there's a snowstorm in May.
We're confident and not overly showy, which is exactly what the designers of The Bay's 2012 clothing lineup for the Olympic Games in London, England, hopes to convey about our nation to the countries we're set to compete against.
"I think we're quietly confident, but I also think we're much more daring than people think. In our quiet confidence, we're not afraid to laugh at ourselves, too. It's all part of being comfortable in our skin," says Suzanne Timmins, Vice President and Fashion Director for The Bay.
What can you expect from the line? Lots of patriotism. Bold maple leaves pop off T-shirts and our nation's name appears boldly on a pullover. But the line also pushes the limits of what classic Olympic apparel is -- this year, there's a denim jacket (which, let's face it, is kind of a Canadian go-anywhere, with-anything item). There's an overall sense of fun to the collection.
Check out our favourite pieces from the line, and let us know what you think on Twitter.