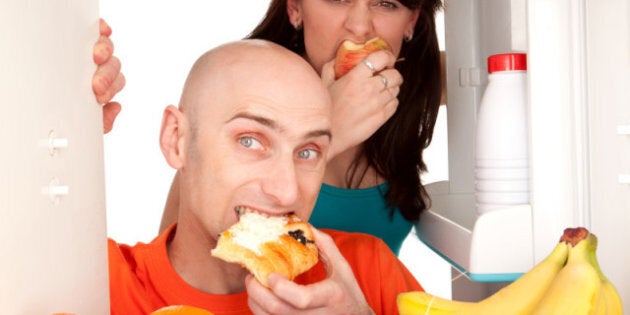 Holidays are around the corner, and days are quickly getting filled by parties, shopping lists and taking kids to see Santa. With these busy schedules creeping up on us, we may need a reminder to stay healthy by eating well.
The Huffington Post Canada talked to three dietitians who weighed in on their must-have items for fridges and pantries this holiday season -- and all-year round.
All experts agreed that buying in bulk, pre-planning for meals and using leftovers are easy ways to stay on budget. Doug Cook, a dietitian based in Toronto says using coupons is another way to save money.
"Also try buying seasonal foods. Asian vegetables and cabbages are still in season and cheap for cooking," he says.
Not only are eggs nutritious, but they can be used in many dishes. "Eggs are quick for meals and baking," says Cindy Black, a dietitian based in Halifax.
Yogurt, whether plain or Greek, can be easily turned into a dip by adding herbs, or used to make smoothies for a healthy snack or dessert, Black says. Cook recommends adding frozen fruit to smoothies as well.
Canned beans or chickpeas are staples for simple dinners and lunches. If you want to save, try buying grocery store brands. "No name [products] can actually be lower in salt, fat or calories," says Natalie Brown, a registered dietitian based in White Rock, B.C.
Cheeses, with less than 20 per cent milk fat, are perfect for holiday snacks when paired with crackers or added to pastas, sandwiches or salads. Want to save on costs? Buy cheese blocks instead of pre-packaged shredded cheese, experts say.
Story Continues Below: Here are the top 10 food items, according to experts, we should have on hand for the months ahead.
Frozen Fruits And Vegetables:
"Buy frozen vegetables, canned fruits that are on sale or in season," says Brown. Fruits are perfect for desserts like apple crisp or smoothies, while vegetables can be used extensively in many meals. Another benefit of frozen food? It tends to come already chopped.
Tuna is another healthy topping for sandwiches and salads, Cook says. Tuna and crackers are always popular snacks for kids, the office or even appetizers for casual get-togethers.
Root vegetables are not only nutritious, but they lend themselves to several different options. "]Try] one-pot meals such as soups, stews, [or] casseroles," Brown says.
When it comes to baking, oatmeal is a healthier and tastier choice than store-bought goodies. Try making muffins or fruit crisps, Black says, replacing high-calorie desserts.
Rice is a staple for many cultures and during the holidays, it can help you supplement many meals. Rice can be used as a side dish, main dish or used in casseroles, Black says.
Keeping fresh deli meats in the fridge can mean options for quick sandwiches and finger foods, lunches and dinners. Brown recommends buying sliced turkey and chicken specifically.
But if you still find yourself grabbing chocolate chip cookies or pieces of cake at your office party, remember to track what you're eating.
"It's okay to indulge, just eat in moderation rather than just eating because something is [on the table]," Black says.