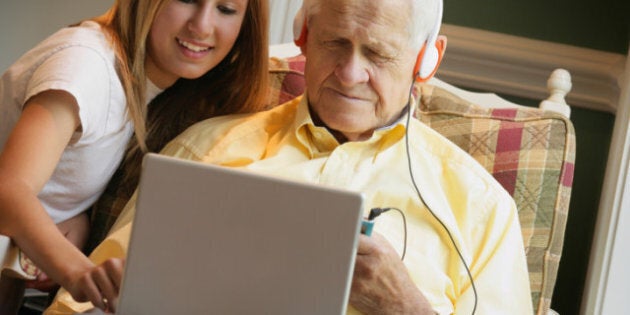 TORONTO - Older Canadians are increasingly following their younger counterparts into the world of social media, with Facebook by far the most popular way to network, a new poll suggests.
The Harris-Decima survey conducted for The Canadian Press indicates that 68 per cent of those asked used social media in 2011, up from 57 per cent two years ago.
The main difference over the past two years has been the surge in participation by those over the age of 50.
Two years ago, almost all the respondents under the age of 25 were already on the social media bandwagon.
However, only 39 per cent of those over 50 had climbed aboard in 2009 — a ratio that jumped to 57 per cent by 2011 — an increase of almost two-thirds.
"They're getting more comfortable online," Mike Leahy, senior Harris-Decima vice-president, said in reference to older Canadians.
"My impressions are that they are communicating with different generations, who are very active in social media."
When it comes to social networking via the Internet, Facebook is the "Goliath" with 97 per cent of respondents involved in social networking using the site, essentially unchanged in two years.
While one in four respondents now use Twitter, growth in the 140-character Twitterverse has been phenomenal since 2009, growing from just two per cent of those asked.
At the same time, the once-popular My Space has plunged from 14 per cent two years ago to just four per cent, the survey indicates.
The survey also probed social media's role as a vehicle for corporate and consumer brand building.
Results indicated that some social media participants are actively engaging with brands, which are using the medium to communicate with the consumer.
"Social networking allows for a dialogue to develop between the consumer and the brand (which is) very powerful when trying to understand and respond to consumers' needs," Harris-Decima said in an analysis.
According to the poll, 29 per cent of social networking participants interact with a consumer brand.
Among those who follow brands on social media, 73 per cent interact with up to five brands, while 21 per cent interact with six or more brands.
About four in 10 say they usually notice advertisements on social networking sites, although only three in 10 say they have surfed to an advertiser site from one of their social networking sites.
Leahy said advertiser spending on social media is still "very small" but growing but said the "opportunity for dialogue" between brand and consumer is really important.
"A very valuable and fundamental uniqueness to social media is that connection or conduit between the brand and the consumer," Leahy said.
The figures are based on a number of online and telephone polls run between 2009 and 2011 with at least 1,000 respondents in each, Harris-Decima said.