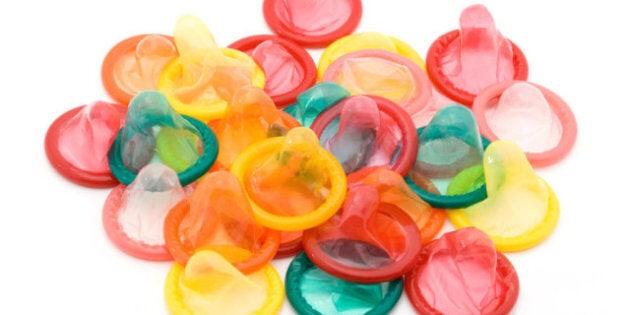 It's becoming increasingly common for students to pick up more than a diploma over the span of their university careers.
The rate of reported sexually transmitted infections has increased among the university-aged population, leaving some schools scrambling to come up with ways to curb this growth.
According to a study released by the Public Health Agency of Canada last month, reported cases of certain STIs are highest among Canadians aged 15 to 24.
In the 20-to-24 age group, reported cases of chlamydia per 100,000 population rose from about 620 in 1991 to almost 1,374 in 2009. Symptoms can include painful urination and discharge, and the infection is associated with infertility in women and testicular pain in men.
Cases of the bacterial infection gonorrhea in the same age group were reported at a rate of 100 per 100,000 population in 1991 and grew to 145 cases per 100,000 in 2009.
The Public Health Agency notes that testing for some STIs is less intrusive and more effective than it was in the past, so those numbers might in part reflect an increase in detection.
"But I don't think you can explain it away just like that," says Dr. David Reid, a physician at the University of Prince Edward Island Student Health Centre.
Reid says his clinic has seen an increase in chlamydia cases. The bug is on the rise in the province overall.
He's also seeing an increase in incidents of a particular type of genital warts called molluscum contagiosum. Reid says the trend may be caused by shaving, which can leave the skin with nicks and open wounds that are more prone to infections.
"(Sexually transmitted infections) have always been out there, but I think that there seems to be more risk-taking than there used to be," he says.
For the past two years, Reid has collaborated with students to run a drive that encourages students to sign up to get tested at the campus clinic. This year, the drive was advertised on social media networks like Facebook and Twitter.
"Sometimes it's surprising that people know so little about STIs," says Ziadanne Lewis, who heads a sex education centre at the University of Toronto's Mississauga campus. It's lack of awareness among youth that allows these infections to slip by unnoticed and spread.
That's why the public health agency recommends sexual health education as a vital way of preventing infections. School-based programs are effective and convenient, the agency notes, because schools are in frequent contact with young Canadians.
The University of Toronto sex education centre provides students with a chance to chat with a peer counsellor who can offer advice and informational resources around sexual health issues. Lewis says the program is a handy alternative for students who may be intimidated or deterred by the STI information clinics that the university hosts.
Across the country, most universities provide some sort of sexual education. Most of these take the form of lectures and workshops arranged either by the school administration, student groups or both.
At Toronto's York University, an organization called Trans, Bi, Lesbian and Gay Allies at York works along with the school to raise awareness about STIs. The student group invites off-campus speakers to host informal talks two to three times a year. Meanwhile, the university's health education team answers students' anonymous questions about sex and relationships at an event called "Sex on the Couch" several times a month.
Catherine Tsouvaltsidis, the organization's external co-ordinator, says the administration has made sexual health education a priority, but there's always more that can be done.
"You've got to give props where they're due," says Tsouvaltsidis. "They're really pushing hard."
The difficulty, she says, lies in trying to reach those students who aren't actively involved in campus activities. How do you get commuter students, who make up the majority of York's student population, to stick around after class?
"It's easy to hit the students who are here, who are participating in groups," says Tsouvaltsidis. "They're here already; it's easy to target them. But it's hard to target the kid who's like, 'Well I'm only here for my one economics class and then I'm out of here.'"
Tsouvaltsidis says new methods are needed to grab students' attention and get the word out about the workshops that are taking place.
"We need to take our brainstormers on the student side and on the admin side and figure that out."