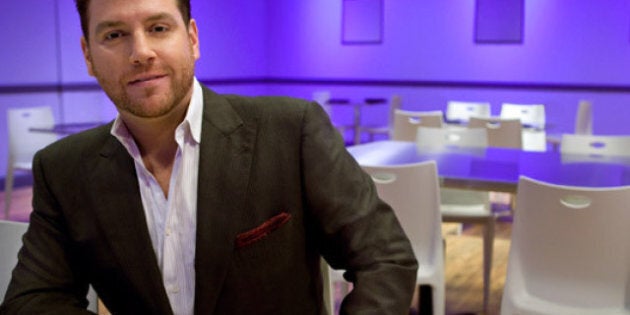 He may have six renowned restaurants around North America -- including Scarpetta in Toronto's Thompson Hotel -- but there's one grocery store staple Scott Conant can't stop snacking on when he's home alone. We snagged 10 minutes with Conant at a Barilla World Pasta Day event to find out what his foodie weaknesses are as well as the meal he's most proud of cooking (a dish so simple, you may be surprised).
How did you get started cooking at only 11 years old?
I was a chubby kid [laughing], and a group of friends and I took to it together. Now it's a little more common, a lot of kids tell me they want to take cooking classes. First thing I learned how to cook was an apple pie -- not a very good apple pie [mind you].
Food was a big part of growing up, though?
Yes. My mother's side of the family is Italian; my grandparents had a huge garden.
If you weren't a chef, what would you be doing?
I have no idea. I'm too old to be a baseball player at this point! It's hard to say... One thing that's really interesting is probably marketing. It's fun and interesting and you have to think about things in a different way. There's a component of that within the restaurants I have.
What are five things you always have in your kitchen?
I live in Manhattan so the five things you can always find that are food-related are takeout menus! But now I have a 20-month-old, so my wife is always cooking for her. We always have some sort of lettuce -- butter lettuce, radicchio, something like that -- and avocado. A big chunk of Parmesan cheese, coconut water and I always have Billecart-Salmon Rose Champagne.
What do you like to eat after a long night at the restaurant?
I'm a real sucker for a chicken cutlet -- like a sandwich with a chicken cutlet, lettuce, tomato, mayonnaise. It's not that interesting, actually, I wish it were. I wish I could say "I have to stop and get Korean food!" but not so much.
If you were to host an ultimate dinner party, which three guests would you invite?
Abraham Lincoln. He's a very interesting historical character in American history who really found a balance in his presidency. He was just elected to his second term when he was killed; the fact he kept the country together, he pursued an agenda that wasn't necessarily what he started with, and he moved the country in a different direction -- he almost did things that were completely illegal in order to do the right thing. He had such integrity.
Also, Gandhi, for obvious reasons -- a lot of goodness.
And maybe the Dalai Lama.
I could invite dozens more: Bob Dylan, Martin Luther King Jr., great historical figures.
Do you listen to music when you cook?
I'm a big Dylan fan, I listen to Dylan when I need to relax or when I'm really thinking about things related to food or business, anything really. Business is all kinds of new to me -- the last five years I've really taken on different roles in my life. I always find myself listening to Dylan when I need that little bit of inspiration.
What's the most memorable meal you've made? What's one you've enjoyed?
Let's see. I have been fortunate enough to cook for so many different people. But I have to say the first solid food my daughter ever ate -- she had white turnips, pureed. My wife was like, "That's disgusting, how can you give to her?" Yet, she ate the dish and loved it -- she kept asking for more. It was cutest thing in the world.
As for the most memorable meal I've ever shared, it's hard. There are so many great restaurants, so many great experiences and sometimes you don't realize how memorable and wonderful they are until years later. Like watching my grandfather eat a bowl of pasta happened many times in my life, but it's more memorable now.
When you're home alone, what's your guilty food pleasure?
Extra chunky, reduced fat Skippy peanut butter. I think it has less fat, but more sugar. I will sit and eat half a jar of the stuff with a knife. It's horrible. The texture of it and the flavour of it, I just love the stuff -- I can't have it in the house.