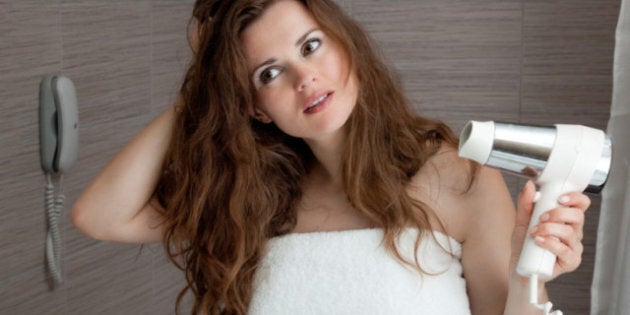 Quick Study [kwik stuhd-ee]: The Huffington Post Canada's tips to make your life a little sweeter, five minutes at a time. Think of it as a cheatsheet for your general well-being.

For the next 30 days, we're checking out how to take a break from your busy holiday schedule and relax -- in unexpected ways.
The Huffington Post Canada talked to award-winning hairstylist (he just worked on the Victoria's Secret Fashion Show) and owner of Moods Hair Salon in Vancouver, Chad Taylor, on how we can maintain perfect hair as we enter the winter months.
HuffPost: How do you suggest taking a break from the stresses of the holidays?
Chad Taylor: The holidays not only stress you out, but also your hair. Central heating, cold dry air, and extra blowdrying and heated irons on your hair leave it in less than optimum condition. A few tips to give your hair an extra boost. After summer blondes, salt water, and sun, have your stylist take you into a deeper winter tone by using a semi or demipermanent colour that will not only condition your hair, but will also give new depth and dimension and lustre to your colour. Honey tones, bold reds and coppers, chestnut and chocolate tones will give your skin tone new glow as your tan starts to fade away. A perfect blowdry can be ruined just by stepping outside into rain or snow.
One style that works great while in transit is to simply twist your hair into a low chignon and pin the hair loosely. Once you get to your final destination, simply remove the pins and brush your hair. This will help to maintain your style as well as give you beautiful soft waves.
HOW THE TWITTERVERSE DOES IT:
Revamp Your Scalp: To relieve itchy scalp symptoms try a fancy salon scalp message and treatment. This way you can relax while blood flow and circulation are stimulated, motivating your natural oils to produce. Or do-it-yourself with natural butters and oils such as shea, coconut, olive or jojoba -- each is an ideal weekly shampoo prep. Apply one tablespoon straight from the bottle or jar and massage into scalp for a few minutes, work through hair then shampoo and condition. (Hint: Rub a few drops into your hands while you're at it, then slip into plastic gloves and a warm nail mitt for 10 minutes.) Read the rest of the steps here.
Bangs: A lot of us may want them but keeping them away from the face can be awkward. Here is a video on how to fake side-swept bangs -- with the haircut you already have.
Do you have a favourite hairstyle for the holiday season? Let us know on Twitter at @HuffPostCaLiv or in the comments below.