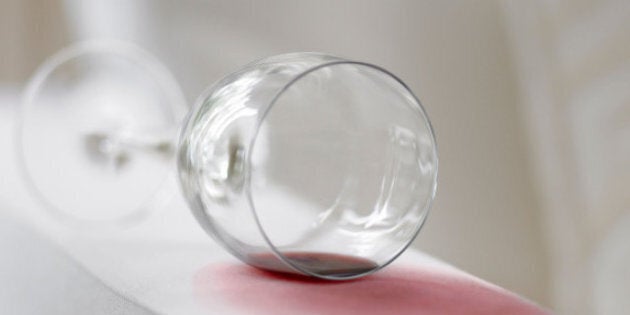 With so many things on the go during the holidays, it can be easy to stumble into a seasonal snafu.
Never fear: we have answers to your "How do I handle this?!" holiday questions (Tweet us or add a comment below) thanks to Karen Cleveland of the Finishing School -- a national column devoted to etiquette, manners and civility.
This week, Cleveland tackles wine spills at your boss' home, regifting rules and the unspoken rules of sending holiday cards.
You're at your boss' house and you spill some wine/beer. What's the best way to handle the situation?
"A spill at your boss' home could be perilous," says Cleveland. "Handle it with the stealth of a jungle cat and under no circumstance are you to sit back and wait for your host to contend with the problem."
She suggests you start making amends by apologizing profusely while simultaneously dousing the stain with soda water, blotting it with paper towel, to avoid permanent damage. Cleveland also advises you carry those handy purse-sized stain remover pens with you everywhere.
"If, despite your efforts, there is still a mark at the end of the evening, quietly have a word with your host (or other guest, if they happen to be wearing your spill) and ask they please send you the bill for the required carpet cleaning or dry cleaning. Because you should be paying for either. Handle the situation swiftly and matter-of-factly, with a dose of oh-my-gosh-I'm-so-sorry humility. "
What if your boss declines your offer to pay for clean up? "Since the gaffe happened in your boss' home, and if they decline your offer, do not force the issue -- they are, after all, the boss. Insisting will only make an uncomfortable situation that much more awkward. Instead, thank them for being so forbearing."
You're in the middle of handing out Christmas presents and you realize you've been gifted with a regifted gift. What the heck!?
"There are, sadly, dirty little regifters among us. If you find yourself on the receiving end of something that has obviously been regifted, accept it with the same affable graciousness as you would a gift that was painstakingly selected for you. Simple as that: no sly remark or back-handed "thank you.""
Who should you really send holiday cards to? And should you feel guilty if you receive a card from someone you didn't send one to?
"You should send holiday cards to, quite simply, people you want to wish a happy holiday to -- and that could be friends, family, folks you do business with or people that provide services that make your life easier. Sitting down to write a thoughtful message for the holidays is time well-spent, though, depending on how long your list is, can understandably be a daunting task (and one that mulled wine was specifically invented for)."
And what if you receive a card from someone you didn't send one to? "Acknowledge it with a quick call or email thanking them for the nice note. Perhaps subtly slide in that you have totally dropped the ball on sending holiday cards this year. Either way, thank them for the card and give them the warm holiday greeting that you would have conveyed in a card, had you sent them one."