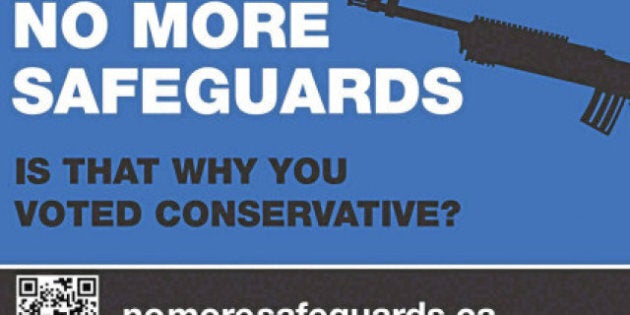 The NDP may not have a permanent leader but that isn't stopping it from already planning for the next election.
"Preparations for the next campaign are already underway," Brad Lavigne, the principal secretary to interim leader Nycole Turmel told The Huffington Post Sunday.
"Four years, is not that long when you size up the challenge before us. We've secured 31 per cent of the vote, we need to find another large group of Canadians who either voted for another party or didn't vote in the last election campaign for us to reach our ultimate goal, which is to form the next government."
"The next election will be starting a lot sooner than four years from now. Planning is already kind of underway. So we have no time to spare in terms of it," he added.
The outside-election-cycle ad features the image of a Ruger Mini-14 semi-automatic, a weapon that was used by both Marc Lépine in the 1989 Montreal Polytechnique massacre and by Norwegian Anders Breivik during his horrific July killing spree. The tagline: "No More Safeguards. Is that why you voted Conservative?" is intended to reinforce the message that the Tories are using their majority to instigate policies Canadian voters didn't expect, the newspaper reported, and imprint that idea in the public's mind in a fashion similar to how the Conservatives used ads to define Liberal leaders Stephane Dion and Michael Ignatieff ahead of the last two elections..
Tuesday, Lavigne will be in Sydney, Australia, signing a memorandum of understanding with the country's Labour Party — the first formal international partnership in the NDP's 50-year history.
"We have a tremendous amount to learn from our colleagues and we want to put those lessons into place as soon as possible," Lavigne told HuffPost, noting that agreements are also being sought with U.K.'s Labour Party and potentially Ireland and Italy's Labour parties.
International linkages will help the NDP learn from parties with experience governing, Lavigne said, what it took for them to get there and how that can be put into practice in a Canadian context.
Will that undoubtedly mean the New Democrats move closer to the political centre?
While he prefered talking about the party moving forward rather than horizontally, and cautioned that strategies and messaging that worked elsewhere won't necessarily translate in Canada — "We have a different political culture" — Lavigne said the DNP will have to continue to broaden its appeal. He stressed, however, that "Obviously, the next leader chosen by our members in March is going to set the direction for where we need to go."
"We've gone from less than a million people supporting us less than 10 years ago, to 4.6 million" the NDP veteran noted.
"There's no question that what we've been doing for the last number of years has made the party more relevant to the electorate. That work must continue, and will do so," Lavigne said.
Like Huffington Post Canada's Ottawa Bureau Chief Althia Raj's reporter page on Facebook and follow her onTwitter for all the latest news from Parliament Hill.
althia.raj@huffingtonpost.com