AP, CP, Getty
For many, 2011 was a year they wanted to get back. We look at some Canadians who could have done better this year.
1. RESEARCH IN MOTION
In November, 2010, Research In Motion's BlackBerry accounted for just under a quarter of all smartphone sales in the United States. One year later, its market share had dropped to 9 per cent. Worldwide, the company's share of sales dropped from 15 per cent of the total to 10 per cent.
Those stats pretty much sum up what happened in 2011 to RIM, Canada's highest-profile tech company. A firm that just a few years earlier was the darling of investors found itself falling severely behind its primary competitors, the Apple iPhone and smartphones running Google's Android operating system.
Despite the company shifting into overdrive to broaden the BlackBerry's appeal — this year it introduced a new music-sharing service and touch-screen phones, among other things — investors and market observers brought out the knives all the same, and RIM shares sunk to multi-year lows, falling every time the company released a quarterly report.
Speculation abounded as to whether the company would get bought out, with Microsoft, billionaire investor Carl Icahn and global wireless carrier Vodafone all rumoured to be interested, but as of the end of the year, little had materialized from the takeover chatter.
Conventional wisdom held the Waterloo, Ont.-based company's co-CEOs, Jim Balsillie and Mike Lazaridis, to blame for the company's woes, with whispers circulating about an inflexible corporate culture and a lack of vision within company leadership. Daily Finance listed Balsillie and Lazaridis — who this year lost their status as billionaires — among their nine CEOs who should be fired.
Things didn't get much better when the company released its iPad rival, the PlayBook. After an initial shipment of 500,000 units, RIM reportedly dropped shipments for the next quarter to 200,000 — an unmitigated disaster, by any standard. The tablet computer didn't gain traction with consumers until RIM dropped the price of the basic model to $200 in the U.S. and $300 in Canada, causing it to fly off the shelves during Black Friday sales.
And then, of course, there was the Great BlackBerry Outage of 2011, a cascading series of network failures that began in a RIM office in England and spread around the world, causing BlackBerry users to lose service for up to four days. The company's days-long silence on the issue angered its customer base, forcing a contrite Lazaridis to apologize on YouTube. Not surprisingly, the whole fiasco ended in lawsuits, and market observers wondered whether the technical snafu would mark the company's death knell.
The company's reputation for secure communication suffered a few months later, when hackers managed to gain root access to the PlayBook.
And if that wasn't enough, a promotion in Jakarta, Indonesia, offering the first 1,000 buyers a 50 per cent discount on the new BlackBerry 9790 turned into a near-riot, with police sending in reinforcements after several dozen people were injured. As of press time, Indonesian authorities were reporting that RIM's Indonesia chief, Andy Cobham, could face charges over the incident.
A year of misadventures aside, it's not all doom and gloom for RIM, and there are bright spots in the company's outlook that could form the basis for a comeback. One is the company's relative strength in emerging markets. In India, for instance, the BlackBerry continues to outperform the iPhone by leaps and bounds. And the company has managed to maintain its market lead in its home country.
RIM has also signaled that a major shift in its image is in the works, starting with a redesign of its smartphones. One look at the new BlackBerry London, set to go on sale next year, suggests it will be the most radical redesign of the BlackBerry since the phone's launch.
And as the year comes to a close, at least some tech investors appear to be taking a second look at the company, suggesting it may be time to invest in its stock, if for no other reason than the somewhat logical assumption that, well, its value can't get much lower. — Dan Tencer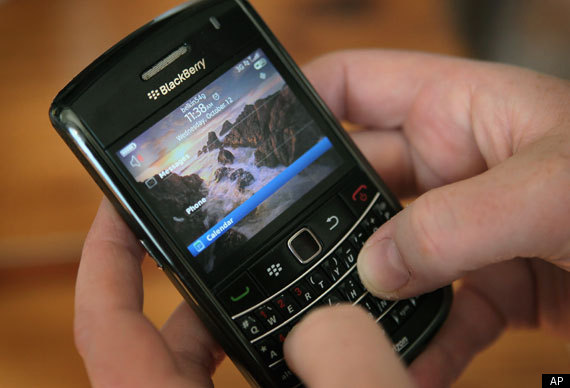 It hasn't been a good year for RIM, maker of the iconic Blackberry device. (AP)
What were the biggest Canadian news stories of 2011? We want to know. Tell us on Twitter using the hashtag #2011news
2. ROB FORD
Elected in November 2010 with more than 47 per cent of the vote, Toronto Mayor Rob Ford had political capital to burn. Torontonians elected the right-wing suburban councillor on his promises to cut spending, stop the so-called "gravy train" of wasteful municipal spending, hold the line on taxes and do it all with "no service cuts."
And for the first few months, Ford seemed to be unstoppable, fulfilling several key campaign promises: He rolled back the $60 car registration fee, killed off the transit strategy touted by his predecessor David Miller, and lay the groundwork to privatize garbage collection in parts of the city. One poll in March had Ford at a very respectable 60 per cent approval rating.
And then things began to slip. Left-wing councillors, initially demoralized by City Hall's sudden turn to the right, began to solidify and gain support among the small group of "mushy middle" councillors in the city's centre.
Mayor Ford also didn't do himself any favours. He found that cancelling Miller's long-established transit plan didn't endear him to the provincial government, which had agreed to fund large parts of the project. Ford's attempt to roll back the land transfer tax was met with resistance by critics who warned it would only exacerbate the city's projected deficit in 2012.
Then there were tactical missteps. The city's progressives jumped on the mayor for his refusal to attend Toronto's Pride parade in July, a huge tourist event that former mayors of all political stripes had attended, Mel Lastman included.
His call for 10 per cent, across-the-board budget cuts were met by an uproar in the city. Hundreds of people attended consultations at City Hall, decrying cuts on everything from libraries and daycare to the TTC and arts programs.
Then there was Doug, the mayor's brother and closest political ally, who dragged him into a series of political quagmires. The city's cultural elite howled at his highly-publicized argument with Canadian literary legend Margaret Atwood over proposed library cuts. "She's not down here, she's not dealing with the problem. Tell her to go run in the next election and get democratically elected. And we'd be more than happy to sit down and listen to Margaret Atwood," Doug was reported to have said about the author. A trivial matter, but one that reinforced the culturally clumsy stereotype attached to the Ford brothers.
More significant, was Doug Ford's mishandling of the waterfront development file. His proposal to build a mall, hotel and Ferris wheel on the city's eastern waterfront was largely ridiculed in the press and shot down at council.
The gaffes didn't stop there. There was the outburst when a crew from This Hour Has 22 Minutes ambushed the mayor on his driveway. The mayor admitted that he swore during a 911 call about the incident, which even made headlines outside of Toronto. Left-wing pundit Keith Olbermann dubbed Ford that week's "Worst Person In The World." And just last week, a long-running feud with the Toronto Star flared up again when the paper filed for a ruling from the city's integrity commissioner over the mayor's unwillingness to send press releases to Toronto Star journalists.
When Torontonians were polled in the fall, just one year after his election, Rob Ford was limping along with a 37 per cent approval rating, one of the lowest among major city mayors in Canada. It's not going to get any easier for Ford. The city is facing a massive budget hole in 2012, and Ford's opponents smell weakness. — Ron Nurwisah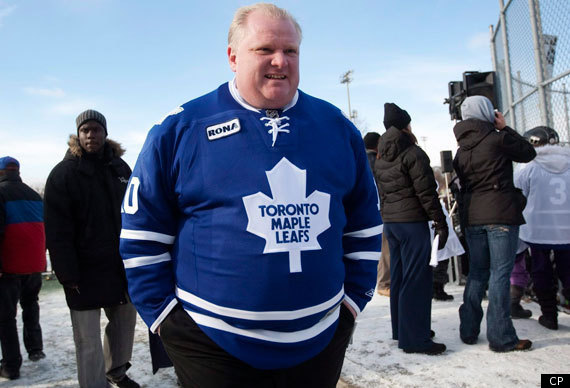 Even the Leafs are doing better than Toronto mayor Rob Ford. (CP)
What were the biggest Canadian news stories of 2011? We want to know. Tell us on Twitter using the hashtag #2011news
3. CANADA ON CLIMATE CHANGE
Canada's foreign affairs stance has been considered one of the more principled in the world. Initiatives such as peace keeping and our involvement in multilateral treaties and initiatives have made Canada's reputation abroad relatively good compared to the United States.
But from the Keystone XL Pipeline to a possible withdrawal from the Kyoto Protocol, Canada seems to be doing its best to alienate environmentalists and other governments trying to act on climate change.
Alberta's oil sands have long been a black mark on Canada's environmental record, but the proposed development of the Keystone XL Pipeline, a TransCanada project that would get oil from Alberta to refineries in the U.S., became a rallying point for environmentalists on both sides of the border and even Nebraska farmers who worried that the pipeline (and any potential spills) would be disastrous.
The most visible of their actions were the sit-ins at the White House, which leading environmentalist Bill McKibben described as "a symbolic house arrest.". Thousands attended and dozens, including celebrity spokeswoman Darryl Hannah, were dragged away by police.
In the end, political pressure forced Obama to delay the decision on the pipeline. But the damage to Canada's reputation on the environment file was done.
Then in November, it was reported that the Canadian government was ready to pull out of the Kyoto Protocol, with Environment minister Peter Kent referring to Kyoto as being "in the past". Kent later confirmed that Canada would not renew its commitment to Kyoto when the protocol expires in 2012.
During the Durban summit, activists decried Canada's position, awarding the government the Fossil Of The Day award. Some even said that Canada was "bullying" other nations at the summit.
One of the strongest voices of criticism was Nobel Prize winner Archbishop Desmond Tutu.
"For us in Africa, climate change is a life and death issue. By dramatically increasing Canada's global warming pollution, tar sands mining and drilling makes the problem worse, and exposes million of Africans to more devastating drought and famine today and in the years to come," the Nobel Prize winner said.
This situation isn't likely to change any time soon. Alberta's oil sands are one of the key economic drivers for Canada and global demand isn't going to decrease any time soon. Those benefits, coupled with Harper's majority in Ottawa, will likely blunt the arguments of domestic environmentalists for years to come.— Ron Nurwisah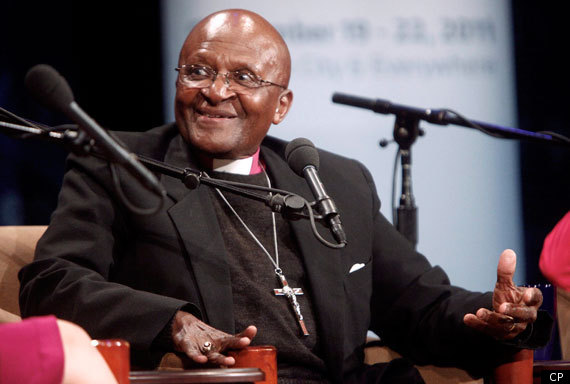 Archbishop Desmond Tutu was one of the strongest critics against Canada's stance on climate change.
What were the biggest Canadian news stories of 2011? We want to know. Tell us on Twitter using the hashtag #2011news
4. LIBERAL PARTY OF CANADA
The day after the Liberals most devastating electoral result in the party's 150-year history, Michael Ignatieff faced a small group of journalists and staff in the basement of a Toronto hotel.
Not only had Ignatieff proved he was not the great white knight many Liberals had hoped, but he had lost half the caucus overnight: 43 of the party's 77 seats — including his own.
The night before, with that reality yet unknown, Ignatieff had delivered a concession speech pledging to keep fighting.
"I'm going to need the help of every Liberal, everyone who loves their country and loves this party, to stand with me as we rebuild and renew," Ignatieff had said to a sparse crowd in the Sheraton's ballroom.
But on a rainy Tuesday, Iggy, as he was popularly known, called it quits.
Tears streamed down the faces of staff members who had devoted weeks, months and years hoping for a different outcome.
"For me personally, it was the culmination of several weeks of being out on the campaign trail and working exceptionally hard, not only for the purposes of Mr. Ignatieff but … for a variety of candidates, my former boss (Liberal MP Anthony Rota) included," said Greg Kolz, whose tears that day captured the iconic image of defeat.
"Up until that point you hear different rumours," Kolz, a staffer on the Parliament Hill since 2002, told HuffPost. "But it wasn't until that morning that reality kind of set in, and it was like wow."
In Ottawa, for the first time, the Liberal Party was not in power nor was it the Official Opposition. Staff were fired. MPs left in droves.
"It was a frustrating night, it was disappointing, I saw a lot of my colleagues that I wouldn't be seeing much anymore, who went down to defeat who were excellent MPs. … I came out of thinking well we are going to have a challenging time, it's a whole new world," Liberal MP Geoff Regan said.
Liberals had gambled in March by pulling the plug and opposing the Government's budget, that the "unnecessary election," as the Tories defined it, would deliver larger gains.
They believed Ignatieff couldn't sustain another year of Conservative attack ads, their pollster Michael Marzolini was arguing that their numbers were strong and if only Canadians could meet Ignatieff face to face, Liberals believed, he would connect with them.
By most accounts, Ignatieff fared well on the campaign trail but he wasn't able to connect with enough voters. Those who wanted change jumped on the NDP bandwagon instead of casting their ballots for the red team.
"One of the most important things about that election is that it tells you how quickly things can change. And they may appear to be one way going into the election, and they can come out completely differently," Regan said.
Despite the setback, he believes, the Liberal Party has resilience.
"Yes, we took a blow, we got a setback in this election, but we're not going away."
Twenty-year-old Zach Paikin, a next-generation Liberal and a candidate for the party's national policy chair at its January convention, isn't sure about that.
"We have lost our soul," he told HuffPost. "Over the past several leaders we've had a leader who has come to power, or been coronated in our party, and who has subsequently told our party members what to believe and now we have a distinct opportunity to actually redefine what it means to be a Liberal in the 20th century. And we could fail or we could succeed. And it could really go either way." — Althia Raj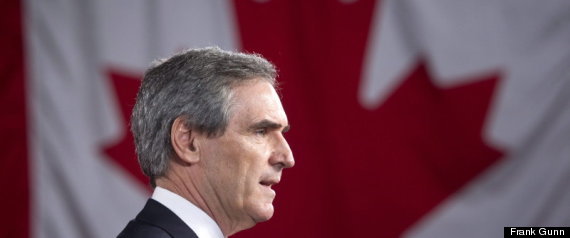 Michael Ignatieff was touted as the saviour of the Liberal party. Instead he led them to one of their worst election results ever. (CP)
What were the biggest Canadian news stories of 2011? We want to know. Tell us on Twitter using the hashtag #2011news
5. VANCOUVER
Sorry Vancouver, but you're going to have to take a loss on 2011. It just wasn't meant to be.
And, unfortunately, you know exactly why. What must burn most about the notorious Stanley Cup Riot is the city's spectacular reversal of fortune — a jagged snap from top-of-the-world exuberance to oh-the-humanity despair.
Don't worry, we fell off the cliff with you too. At HuffPost Canada, we spent our early June evenings being thrilled by Canuck wins — the team rolled over the Boston Bruins in the first two games — and dreaming up punny headlines to blare across the front page.
How wonderful it must be in Vancouver right now, we mused. Such a darling, fortunate city.
Then Boston won a game. No, not just a win. They smashed the Canucks 8-1.
Headline? 'Boston Massacre'
Then the Canucks lost the next game. 'Beat Down In Boston'
It came down to the seventh and final game. In Vancouver.
And you know what? Let's not pop another pixel on what happened next. It's all been said. You know how the game ended. We're on the edge of a new year. No more reminiscing over slope-back simians smashing store-fronts and posing for pictures that would later get them arrested. Much, much later. So 2011.
But make no mistake, just as the Canucks couldn't beat those bruising Bruins, the city couldn't beat the aftermath. You just don't careen from the giddy heights of Stanley Cup fever to the depths of despair and back again in one year.
We've all seen too much.
And the world certainly didn't let us forget.
Those glib bastards at The Daily Mail wrote, 'No, it is not another G20 protest — somebody won an ice hockey match.'
If there's any consolation it's that the world press wasted no time in spreading out the humiliation across the rest of the country:
"Canada is like America's younger sibling who doesn't curse, drink or do drugs," wrote the New York-based Death and Taxes Magazine. "Watching them follow the lead of our rambunctious idiots who defile their own city is kinda disappointing. We've got North America covered in the moronic behavior department."
Assuredly, world press, we did NOT need any more reminders that we evolved from apes.
We had homegrown heroes making the headlines for us.
There's Miss Congeniality! That's right, 20-year-old Sophie Laboissonniere — the Richmond flower who garnered the title at last year's Miss Coastal Vancouver pageant — stands charged with looting a London Drugs.
How about Nathan Kotylak, an up-and-coming water polo player who was caught on camera holding a rag and a lighter near the gas tank of a police car? Somehow, investigators made a connection. But it was Kotylak who turned himself in, saying he got caught up in the moment and felt real remorse.
The likes of Kotylak and Laboissonnioere more than amply illustrate the rise and fall of a city still grappling with the ghosts of thugs in hockey jerseys.
But rise it will. Like the great city it is, Vancouver set to work rebuilding its image the day after those ruinous riots. People were on the streets, Facebook squads, brooms in hand, cleaning streets, cobbling shops back together. Public spaces were adorned with chalk-scrawled apologies, police cruisers covered in Post-It notes. Funds were quickly established to help city business affected by the mayhem. It was inspiring.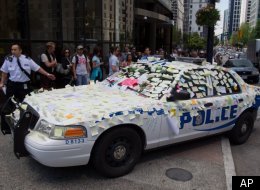 In fact, Vancouver saw lots of upside in 2011.
A handful of former Vancouver mayors are calling for an end to the province's marijuana prohibition. Legalize it, they say. And stamp out the illegal drug trade, along with the violence that comes with it.
Citizens found the time to rock Dick Cheney's visit to the city — responsibly.
And another major sporting event, the Grey Cup, not only saw the city a gracious host — but rewarded with a triumph for the hometown team, the B.C. Lions.
Vancouver's Seaspan Marine Corp. won an $8-billion slice of Ottawa's ship-building contract.
Hey, B.C. women are among the country's healthiest.
But other, less celebratory stories kept landing, like a heavy drumbeat, ushering 2011 to its inevitable conclusion — the depressing details of the Robert Pickton investigation and how police failed scores of homeless women. Then there are the Catherine Galliford allegations — once a top Mountie accusing the national police of wholesale sexual harassment.
And months after that infernal hockey riot, no closure from police. To date, 25 people have been charged. Among throngs.
No Vancouver. No good year for you.
But if there's any doubt that the human spirit can soar, even in down times, take a moment and behold. — Christian Cotroneo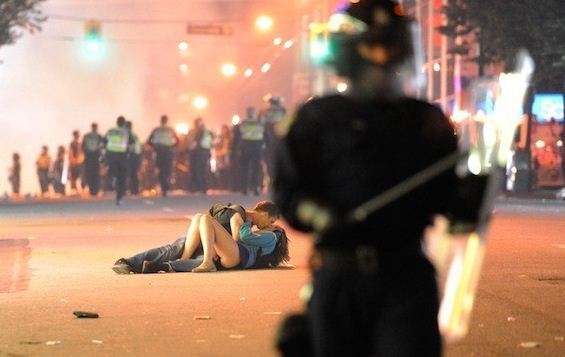 The kissing couple became the iconic image of the Vancouver riots (CP)
What were the biggest Canadian news stories of 2011? We want to know. Tell us on Twitter using the hashtag #2011news
For more on the best of 2011, visit AOL's Best of 2011.