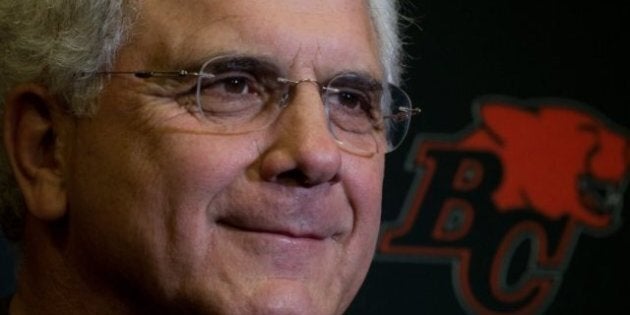 SURREY, B.C. - Wally Buono is stepping away from the sidelines to concentrate on his managerial duties with the B.C. Lions.
The announcement came just over a week after Buono guided his club to a 34-23 victory over the Winnipeg Blue Bombers in the Grey Cup.
Buono was named vice-president of football operations and will retain his general manager's title.
"It was something that I've been contemplating for years," Buono said Monday at the team's practice facility.
Buono posted a 101-60-1 record with the Lions after joining the team as GM and coach in 2003. He led B.C. to a pair of Grey Cup wins, seven division final appearances and five first-place finishes in the West Division.
"This is a day of mixed emotions for our organization," Lions president Dennis Skulsky said. "We have been fortunate to have witnessed coaching excellence during Wally's time at the helm of the Lions and I know all of us are saddened to see him step aside.
"We are thrilled however, that his leadership and experience as a vice-president and GM will be the guiding force as we set about to find his replacement and begin a new chapter for the B.C. Lions."
Buono has a 254-139-3 record over 22 seasons as a coach with the Lions and Calgary Stampeders. He has won five Grey Cups in that time -- two with B.C. (2006, 2011) and three with Calgary (1992, 1998, 2001).
"I have often said that coaches don't win games, it's the players that win games," Buono said. "With that in mind, I am forever indebted to some of our league's greatest talents for their effort and dedication to our great game."
Toronto made a similar move last Thursday when Jim Barker announced he would step aside as head coach to focus on his GM duties. The Argonauts hired Scott Milanovich as their head coach.