AP, CP, Getty
For some, 2011 was a very good year. We look at Canadians who beat the odds, got their way and changed the world in 2011.
1. STEPHEN HARPER
Standing on stage in Calgary with red and blue confetti falling around him, Stephen Harper looked mighty pleased.
"What a great night," Harper declared on May 2. Canadians had given him just what he had spent five weeks asking for: "a strong stable, national, majority Conservative government."
It had taken the Conservatives 18 years to return back to office with a majority. Canadians, once spooked by Liberal ads that warned Harper might put troops in the streets with guns, had seemingly warmed up to the Tory leader after two minority governments.
"The country wanted…a steady hand at the wheel," Dimitri Soudas, Harper's long-time aide, told The Huffington Post.
Although Harper continues to draw criticism from his own caucus members, the media and opposition MPs for being too controlling, Soudas said the Prime Minister's decisiveness makes him a stronger leader.
"You have two types of prime ministers: you have prime ministers who are in control and prime ministers that have absolutely no control over the destiny of the country," Soudas said. "I think the vast majority of the country want a prime minister who is in control, and in charge and taking the country in the right direction — and that applies to Stephen Harper, that applies to Jean Chretien and it applies to Brian Mulroney."
The Conservative leader's success, Soudas suggests, is due in no small part to his work ethic.
"He works harder than anyone around him, whether it is his staff, or quite frankly cabinet ministers. He is someone who knows every single file inside out," Soudas said.
Guy Giorno, Harper's former chief of staff and the man who ran the Tories' election campaign this spring, suggests Harper won because he never took his eye off the ball: the economy.
"Voters trusted him as the person they wanted to continue to lead Canada during tough economic times," Giorno said. "People saw in him someone who was willing to make tough decisions."
What does Harper want to do with his new majority? Giorno and Soudas both point to Harper's desire to "restore" Canadians pride in their national institution and elevate Canada's stance on the world stage.
But at home, the first few months of a Harper majority government have been defined by his grip-tight hold on Parliament as he passes controversial legislation.
Soon after the House of Commons reconvened in June, the Conservatives brought in back-to-work legislation for Canada Post employees. The government threatened to do the same to Air Canada employees this fall, leading some to suggest that the Tories were undermining the legal right of workers to strike.
Then came criticism from the provinces, most notably Quebec, western wheat farmers and opposition MPs that the Tories were refusing to listen to their complaints and cutting debate.
While the Conservatives' omnibus crime bill attracted international criticism for focusing on punishment rather than rehabilitation, Harper's Justice Minister Rob Nicholson refused to bend to Quebec's wishes that the legislation be amended to soften its treatment of young offenders. The Tories also scoffed at the province's demands that it not destroy the long gun registry's records.
As the country braces for deep cuts to balance the bleeding federal deficit, will the next four years result in a sharper Conservative Canada?
Harper won't do anything he didn't tell voters about during the election, Giorno suggests.
"You kinda have to live within the compact that you reached with the voters," he said. "What people are going to continue to see is the Stephen Harper they have been seeing."
— Althia Raj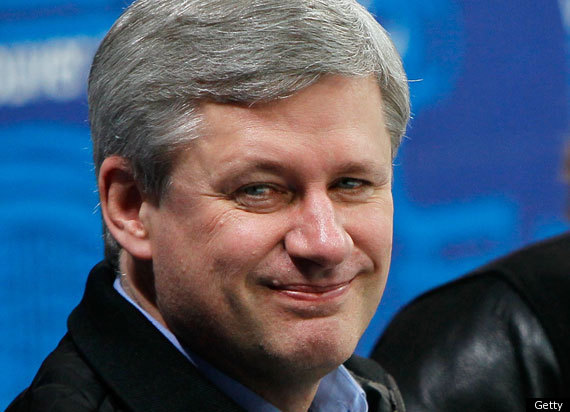 All smiles. Prime Minister Stephen Harper led the Conservatives to their long-sought majority government. (Getty Images)
What were the biggest Canadian news stories of 2011? We want to know. Tell us on Twitter using the hashtag #2011news
2. THE NDP
The NDP's orange crush seemed to come out of nowhere and swept the party toward its best showing ever, securing it the role of Her Majesty's Loyal Opposition in May's election.
Perhaps it was NDP leader Jack Layton's zinger during the English debate: "Most Canadians, if they don't show up for work, they don't get a promotion," Layton told Liberal Leader Michael Ignatieff, looking him squarely in the eye while accusing him of having the worst attendance record of any MP.
Or perhaps it was Layton's charm and his affable nature, one that continuously made him the most likeable federal leader. Or maybe it was a deep desire for change in Quebec, one that was cemented by catchy NDP television ads drilling the point home that Ottawa was broken and traditional parties weren't the answer. Perhaps it was simply the tanking of the Liberal campaign.
Whatever the reason the NDP's mid-campaign surge during the federal election caught everyone by surprise, and no one more so than Pierre-Luc Dusseault, the 19-year-old candidate from Sherbrooke who found himself elected on May 2nd.
Dusseault was among a handful of placeholder candidates with plans to pound the pavement and then move on to a summer job already arranged. Instead of working on a golf course for the sixth year in a row, Dusseault found himself in Ottawa serving as the youngest MP ever elected to the House of Commons.
"Certainly it was a surprise considering the NDP's results of the last elections," Dusseault told The Huffington Post. "The MP who was there (the Bloc Quebecois' Serge Cardin), he had been there for 12 years and was quite popular in the riding, so I knew that it was going to be a hard battle to win."
For the first two weeks of the election, Dusseault, like a handful of his caucus colleagues, was busy studying for university exams. He started door-knocking just as the Quebec surge was occurring.
"At least half of the people we were meeting on the doorstep, many who had already voted in anticipation, said they had voted for us or would vote for us," he said.
Dusseault's "dream" of working in politics was realized — albeit, he adds, "a bit more quickly than expected."
The NDP's celebrations over its historic wins, 103 MPs across the country, with 59 from Quebec, were quickly tempered by the news that their beloved leader was once again sick with cancer.
Layton's death on August 22 shook the country and unleashed an outpouring of affection and support from tens of thousands Canadians who lined up to pay their respects during his lying in state. Thousands more watched his state funeral. A letter penned on his deathbed with his closest advisers was repeated by new NDP converts:
"My friends, love is better than anger. Hope is better than fear. Optimism is better than despair. So let us be loving, hopeful and optimistic. And we'll change the world."
For his caucus and especially the young MPs who'd been inspired to join the party under his leadership and run for office, Layton's death also put into question the party's chances of gaining office in 2015.
"It changed our plans, we won't hide it … unfortunately, that's what life decides," Dusseault told HuffPost.
Now, that the party is in the full throws of a leadership campaign, the priority is to stay united, he said.
"It will be a challenge for the NDP to ensure that everyone is still united together after this race. It will also take cohesion to ensure that everyone lines up behind the leader," Dusseault said.
"The other challenge is to conserve the seats that we have now, and to go and grab more because the only way that we can obtain government is by winning seats that the Conservatives are currently holding — and it will be a challenge to go and convince those people that the choice for the next election is us and not the Conservatives." — Althia Raj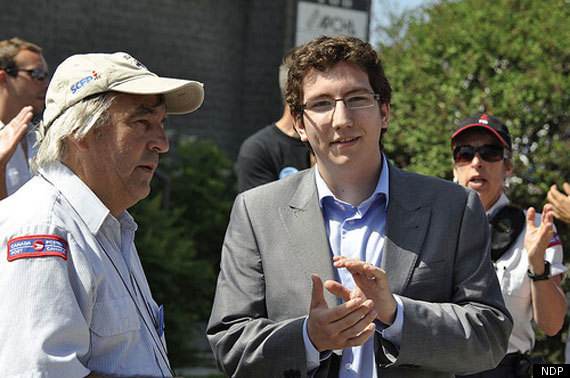 NDP MP Pierre-Luc Dessault, right, is the youngest member in the House Of Commons.
What were the biggest Canadian news stories of 2011? We want to know. Tell us on Twitter using the hashtag #2011news
3. ADBUSTERS
A protest moment that has shifted the global conversation from austerity to income disparity began in July with a simple blog post by Adbusters, that niche, punchy magazine from Canada's "Left Coast" best known for its Buy Nothing campaigns and ad spoofs.
Inspired by the protests in Egypt's Tahrir Square, the blog called for 20,000 people to flood into lower Manhattan on Sept. 17 with tents and kitchens to protest Wall Street, the "financial Gomorrah of America." There was also a hash tag: #OCCUPYWALLSTREET
The call for peaceful occupation was endorsed by the Internet hacking group Anonymous, and by the time Sept. 17 rolled around, an estimated 5,000 people had descended on New York City's Zuccotti Park.
The rest is history and a crowning achievement for the little counter-culture magazine that could, though co-founder Kalle Lasn recently lamented how the Canadian version of the movement attracted more fringe elements than its U.S. counterpart.
"We were inspired by events in Egypt and Tunisia earlier this year" said Lasn, who founded the magazine in Vancouver in 1989 with fellow documentary maker Bill Schmalz, in an interview with The Independent:
I always thought I would die a disappointed leftie, but now I have been redeemed. The idea that we, the people, can go into the iconic heart of global capitalism and take it over, and the fact that we can do that from an office staffed with 10 people and then sit back and watch the whole thing catch the imagination of the world – that gives me hope for the future.
Adbusters, which built a 70,000-strong print circulation without running a single advertisement, recently suggested the three-month anniversary on Dec. 17 would be a good day to pack it in.
"Then we clean up, scale back and most of us go indoors while the die-hards hold the camps," the magazine wrote in a tactical briefing.
It's probably a wise strategic retreat, with cold temperatures sweeping North America at the same time the patience of courts, police and municipal councils wears thin.
But don't expect Adbusters "culturejamming" critiques to go away. They've called for a boycott of Christmas shopping (OccupyXmas) and promise to regroup the original Occupy movement in the spring.
"It's about antagonizing people and slapping them around a little bit and waking them up to reality," Lasn told The Vancouver Sun. — Brodie Fenlon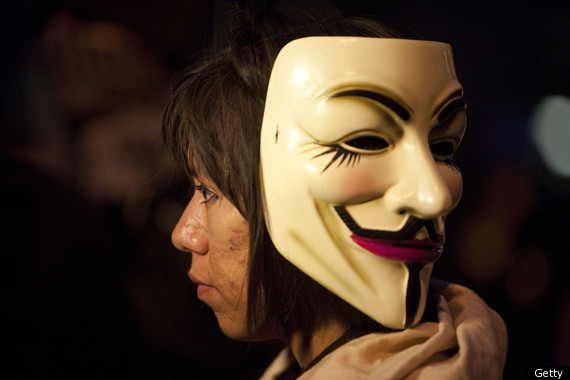 An Occupy LA protester takes to the streets around City Hall in downtown Los Angeles, on Nov. 28, 2011, part of a global movement that began with a call to action by Canadian counter-culture magazine Adbusters. (ADRIAN SANCHEZ-GONZALEZ/AFP/Getty Images)
What were the biggest Canadian news stories of 2011? We want to know. Tell us on Twitter using the hashtag #2011news
4. MARK CARNEY
In a year of nuclear disasters, debt crises and political turmoil, Mark Carney may have been one of the few people having a good year in 2011.
The Bank of Canada governor was undoubtedly busy, landing one of the most important positions in international finance, getting into a public spat with a prominent Wall Street banker, and finally becoming something of an unlikely hero to the Occupy movement.
Carney, a former Goldman Sachs banker and deputy finance minister, reached new heights this year with his appointment to the head of the Financial Stability Board, a relatively new international agency set up by the G20 in 2009 to make recommendations about changes to the world's financial system.
Carney, in landing the position, no doubt benefited from Canada's reputation as a seat of sober-minded banking. In light of the country's not-entirely-deserved reputation for having avoided a banking crisis similar to the U.S.'s or Europe's, having Canada's central banker take the reins of the FSB must no doubt have been a move to instill confidence in global banking.
But 2011 will also be remembered as the year Carney found himself in a public spat with one of the world's most prominent bank CEOs — and came out with new friends on the other side.
News began to emerge in September about a meeting in New York in which JPMorgan Chase CEO Jamie Dimon launched into a tirade against Carney in front of numerous prominent bankers. Dimon reportedly described Carney's call for stricter banking regulations as "anti-American" and "growth-killing," in a rant that apparently stunned those present.
Carney held his ground, and in a speech two days later, he declared: "If some institutions feel pressure today, it is because they have done too little for too long, rather than because they are being asked to do too much, too soon."
So Carney was well on his way to being a hero for the bank-reform movement when he waded into the debate about the Occupy movement, and showed himself to be something of a populist as well.
In an interview on the CBC, he called the protests "entirely constructive."
"I understand the frustration of many people, particularly in the United States," he said. "You've had increase in inequality because of ... globalization, because of technology. You've had a big increase in the ratio of CEO earnings to workers on the shop floor."
Of late, Carney has been warning the public that the European debt crisis risks spilling over to the rest of the world and curbing economic growth.
"Global liquidity has fluctuated wildly over the past five years and we are on the cusp of another retrenchment," he said in November.
Carney is more optimistic about Canada's economic future, which is good, because with his new duties, the country's top banker will have to spend much more time worrying about the problems beyond our borders.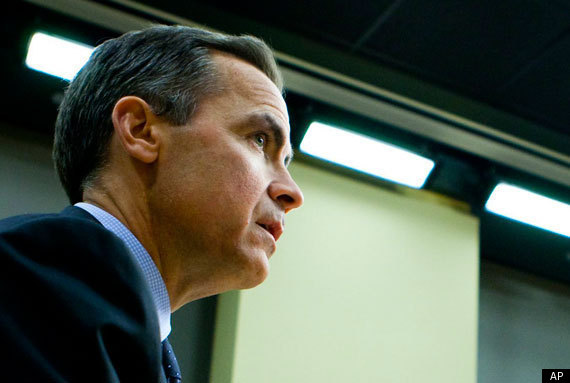 Bank Of Canada governor Mark Carney has risen to become one of the most powerful figures in international finance. (AP)
What were the biggest Canadian news stories of 2011? We want to know. Tell us on Twitter using the hashtag #2011news
5. FEMALE PREMIERS
It was a breakout year for female premiers in Canada.
Alison Redford was elected in Alberta, Kathy Dunderdale in Newfoundland and Labrador and Christy Clark became premier of British Columbia after Gordon Campbell stepped down. With Eva Eariak already in power in Nunavut, four out of Canada's 13 territories and provinces are now governed by women.
This was no small feat. At the end of the 2010, only Newfoundland and Labrador and Nunavut had female leaders. In fact, in all of Canada's history there have only been eight female premiers.
Conservative Kathy Dunderdale had big shoes to fill when Danny Williams handed her the premiership in 2010. Her electoral victory in the fall, with 56 per cent of the vote, put to bed any doubts about whether Newfoundlanders would embrace a woman at the top.
"As I stand here tonight, I can't help but wonder what my grandmother and great grandmother would think. Until 1925, a woman could not vote in Newfoundland and Labrador," Dunderdale said on election night.
Alison Redford also made history with her victory in Alberta. Redford was elected leader of the governing Progressive Conservative Party in 2011 after Ed Stelmach stepped aside. She was subsequently elected Alberta's first female Premier by the province's voters.
Redford also paid tribute to her female forebearers. "I'm proud of my mom," she said in her victory speech. "She got me involved in politics 30 years ago. She's a big part of the reason I'm here and I'm thinking about her."
When Gordon Campbell resigned as premier of B.C., he handed a political hot potato to the province's next leader in the form of the HST.
Christy Clark inherited the tax controversy when she won the leadership of the B.C. Liberal Party and became Premier this year.
Initially, Clark hinted that she would call an election for the fall of 2011 so as not to rule unelected until the next mandated vote in May 2013. But she changed her mind after voters in the province rejected the harmonized sales take in a provincial referendum.
Clark must now negotiate the return of $1.6 billion the federal government gave B.C. as compensation for bringing in the HST, along with the massive hole it leaves in the province's budget.
It's been a good year for Canada's female premiers, but if Clark's woes are any indication, 2012 is sure to offer challenges, both new and old. — Michael Bolen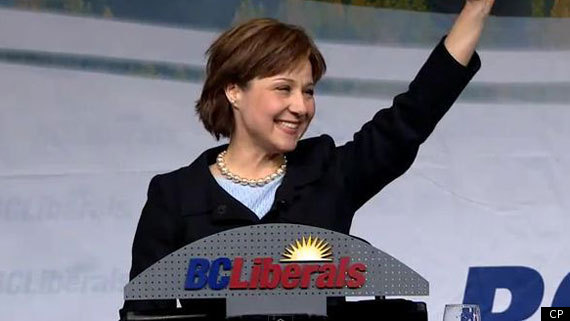 B.C. Premier Christy Clark will have to quell voter rage over the HST. (CP)
What were the biggest Canadian news stories of 2011? We want to know. Tell us on Twitter using the hashtag #2011news
For more on the best of 2011, visit AOL's Best of 2011.