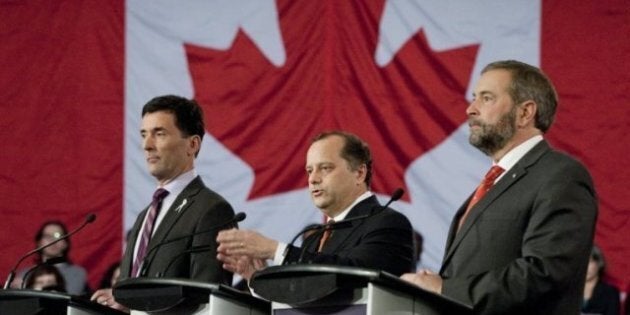 The nine men and women vying to replace Jack Layton as leader of the New Democratic Party met in Ottawa on Sunday to debate about the economy. But another kind of green was a major focus of the event.
Weaved into the candidates' plans and platitudes (unavoidable in a rapid-fire debate among nine contenders) on the Canadian economy were environmental concerns.
Brian Topp spoke about a hard cap on carbon emissions, on the need to move away from coal and about instituting a mass transit system in order to get more cars off the road.
Thomas Mulcair made some waves by bringing up the oil sands, explaining that it was not a question of halting their development but rather a consideration of their environmental costs. Reminiscent of Stéphane Dion's when he was leader of the Liberal Party, Mulcair gave some lip service to the idea of sustainable development for Canada's economy.
And Peggy Nash, one of the other front-runners in the race, mentioned the importance of green technologies as Canada moves forward.
However, 43 per cent said that the economy was the most important Canadian problem. Only six per cent named the environment and climate change as the most important issue Canada faces.
But the kind of rhetoric that sunk the Liberals under Dion may not prove to be as effective against the NDP. Fully 74 per cent of Canadians said they favour limits on carbon dioxide emissions, a topic raised by Brian Topp during the debate. A majority of respondents in British Columbia, a key battleground if the New Democrats are ever to form government, supported the carbon tax currently in place in the province, while 58 per cent of Canadians supported the idea of extending this kind of program to their own provinces.
Of course, the remaining 42 per cent is more than enough to give a party a governing majority in the House of Commons.
But the New Democrats appear to be on the right page when it comes to tying together the economy and the environment. Dalton McGuinty's Liberals won the last Ontario election with a green economy as a major plank of their platform. Canadians are worried about climate change on a global scale, so if the NDP is able to come up with some solutions that are both smart for the economy and good for the environment they could resonate with voters. But the NDP would be safer, at this stage, to lean more toward people's pocket-books than their composters.
Éric Grenier taps The Pulse of federal and regional politics for Huffington Post Canada readers on most Tuesdays and Fridays. Grenier is the author of ThreeHundredEight.com, covering Canadian politics, polls, and electoral projections.