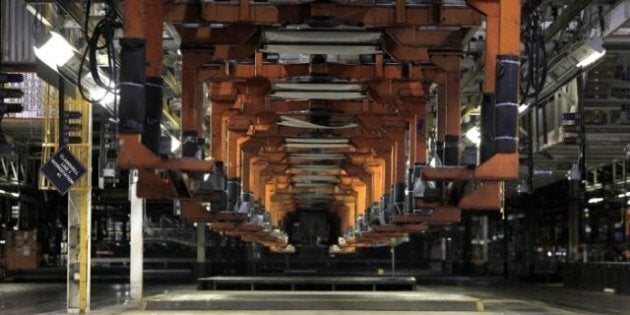 Public debate over the role of labour unions has always been highly polarized, so it should come as no surprise that public reaction to The
Huffington Post's recent story about the link between declining unions and Canada's growing income gap was strong -- and fiercely divided.
In the latest instalment of Mind The Gap, HuffPost's ongoing exploration of Canada's widening rich-poor divide, we investigated the relationship between the erosion of unions and the decline of the middle class -- and, by extension, the rise in income inequality.
It was a link that resonated with many readers -- particularly those concerned about the trajectory of organized labour.
"Unions are more relevant than ever," sgillhoolley maintained. "Whenever unions grow weak, worker wages decline, as does the middle class. It is in [society's] interest to encourage unionization. Unions lead to better wages which leads to a stronger economy. Remember, the true job creators are customers, not rich people."
Wilb Porter, who joined the discussion on Facebook, had a similar take.
"I have a feeling that we may need unions more than ever over the next 10 [to] 15 years," he wrote, reminding commenters, "If you have a great paying job now, no matter what it is, you can thank a union for it ... Had unions not wrestled better pay and working conditions for its members over the past 60 [to] 70 years, your pay right now would be comparatively lower than it is."
But other commenters took issue with the one of the primary functions of unions, particularly in the manufacturing sector: to turn bad jobs into middle-class jobs.
"This is the [problem] with unions and the reason they've contributeed to income inequality. They don't offer real solutions; only artificial ones. They let you believe that what you're doing is invaluable to society and you should be paid $30 [per] hour for screwing in rivets into the hood of a car for [eight] hours a day. Meanwhile, people with degrees are struggling to find minimum wage jobs," purported Certified Jatt. "I'm glad unions will end! That way, these people will have to prove their worth to society like everyone else, and be vulnerable to firings and dismissals and 'accountability' like everyone else."
"This article actually proves the point unions are obsolete," he said. "It basically says unions make jobs not worth middle-class pay be paid at a middle-class rate. That's a problem. Unions were more than that when they formed and current labour laws perform that function today."
Karen DeNoble was one of several commenters who blamed unions for their own demise.
"Unions have over-priced workers. They are responsible for 'collective bargaining' themselves right out of the labour pool," she wrote.
Yet, however unsustainable big private-sector unions may be, it's clear that as the jobs they helped create disappear, the absence of anything to replace them is a source of frustration.
"Luckily our manufacturing sector has been gutted to make way for the jobs of the future. Did you want fries with that? Double-double coffee? Thank you for shopping our Walmart! Ah, the future looks grand!!!!"
Meanwhile, piceaglauca had some advice for Shane MacPherson, one of the laid-off autoworkers profiled in the HuffPost story.
As for those sidelined by the decline of formerly mighty private-sector unions, piceaglauca opined, "Too many people thought they were living the dream, and maybe they did, but they also might have to live the nightmare."
Got a union story to share? Reach us on Facebook, tweet @HuffPostCanada with the hashtag #incomegap or leave a comment below.