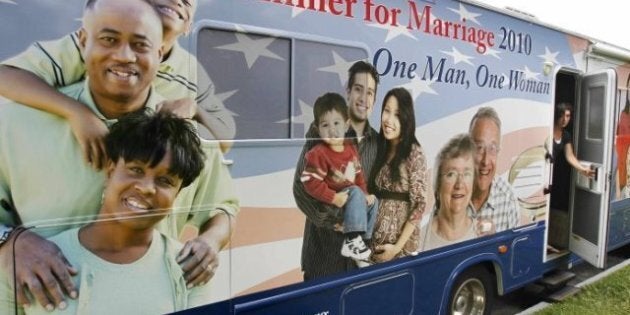 VANCOUVER - An American group opposed to same-sex marriage is fanning the flames in a controversy around an anti-bullying booklet put out by Vancouver's School Board.
The head of Vancouver's School Board and a city councillor claim two other school board trustees used the U.S. group National Organization for Marriage to attack the board's anti-homophobia policies.
Board chair Patti Bacchus and Councillor Tim Stevenson say they want an apology after two disturbing videos recently surfaced, raising questions about the conduct of trustees Ken Denike and Sophia Woo.
Denike agrees he spoke out about the booklet because parents should be concerned, but said he was misled about the interview and had no idea it would be featured on the group's website.
"I was surprised to see it show up there, where it's basically an advertisement which seems to be promoting people to send in money to anti-marriage between two adult males, females, whatever, which is legal in Canada."
In an interview Sunday, Denike said his comments were taken completely out of context.
"I'm in the process of lawyering up on this one."
In the video both Woo and Denike complain that an anti-bullying booklet refers to a website link that is not appropriate for children and contains "homosexual activities."
Denike said when the booklet was first prepared in 2006, that link was appropriate for children, but now it's a website aimed at promoting health for gay men.
In one section of the website a 30 second public service message about preventing the spread of HIV shows two young men having sex and warns in graphic language that those who have sex without condoms should get themselves tested.
Woo said she didn't see anything on the website that is related to anti-bullying.
"For a 13-year-old child, I don't think it's appropriate," she said of teenager whose parents complained about the link.
Another area on the website describes "kink safety," providing explicit descriptions on certain forms of kinky sex such as spanking or whipping.
"They should have sanitized that booklet," Denike said, adding several parents have complained to him about the website link.
But Bacchus said she's heard no such complaints and said the reference in the booklet has been removed.
She said it was meant to be a teacher's reference guide.
"My understanding was at the time it was age-appropriate material but since the printing of that guide the nature of the organization's work has been targeted to an older demographic and it's no longer considered the kind of material you would use in a high school for example."
Denike said he understood that two pages of links in the booklet were photocopies and handed out to students who wanted some guidance.
Vancouver Councillor Tim Stevenson said he found it surprising that Denike didn't know he was duped into doing an interview for the group.
"I would never go into an interview, ever have gone into an interview with somebody saying 'Oh, I'm just the U.S. news,' how ridiculous."
Stevenson, a United Church minister and the first openly gay person ordained in Canada, said he has been fighting the religious right for three decades.
"They have been the most homophobic of any groups I've had to deal with and the most hate-filled groups and they continue to attack us, no matter what the issue is."
The object of this is to stop bullying, that's our goal, that's what we have to remember. Our object is not to make a political case and have the gay community get fearful once again of politicians."
No one from the National Organization for Marriage was available for comment Sunday.
The group's website said it's a non-profit organization with a mission to protect marriage and the faith communities that sustain it. It was founded in 2007 "in response to the growing need for an organized opposition to same-sex marriage in state legislatures."