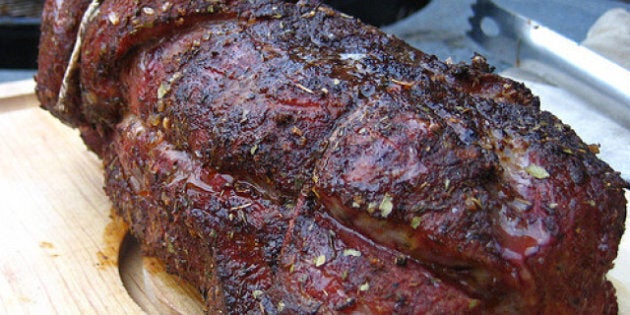 Porchetta traditionally comprises a whole pork loin and belly, but roasting only the shoulder is definitely more practical in your home's kitchen. The shoulder is arguably the tastiest cut of the pig -- and when it is coated with this fragrant rub and slow roasted, definitively so. Check out Canadian celebrity chef Mark McEwan's slow-roasted pork shoulder with pear mostarda.
leaves from three thyme, minced
Leaves from three springs rosemary, minced
Two cloves of garlic, minced
1 tsp (5 ml) toasted fennel seeds, ground
1 boneless skin-on pork shoulder
2 tbsp (30 ml) of olive oil
salt and cracked black pepper
1/2 cup (125 ml) white wine
1 tbsp (15 ml) aged wine vinegar
1/2 (125 ml) oregano pesto
Preheat oven to 275 degrees F or 140 degrees C.
In a small bowl, combine the sage, thyme, rosemary, garlic, and fennel seeds, mix well.
Rub the pork with the olive oil and season it with salt and black pepper. Sprinkle with the rub on all sides, pressing it lightly into the meat.
Arrange the pork skin side up and score the skin in a grid without cutting all the way through the meat. Now flip the meat over. If it does not sit relatively flat, carefully butterfly this section that bulges.
Roll the pork as tightly as possible, in such a way that the skin ends up fully exposed on the outside. Tie it snugly with butcher's twine.
Place the pork on a rack in the roasting pan, and loosely tent with foil. Transfer to the oven and roast, basting every 30 minutes or so, for about six hours -- until a meat thermometer inserted into the thickest park of the cut registers at 75 degrees C. Transfer the pork to a cutting board.
Pour the excess fat from the roasting pan. Place over high heat.
Add the wine and stir vigorously to free all the drippings stuck to the bottom of the pan. When they appear fully dissolved, pass through a sieve into a saucepan.
Bring to a shimmer over medium-low heat, whisk in the cornstarch mixture, and simmer for two minutes.
Taste and adjust seasonings. Adjust acidity to taste with he vinegar, adding only a few drops at a time (and without necessarily using all of it).
Side Dish Suggestions: Roast potatoes with rosemary and garlic. Roman cauliflower with cheese sauce. Sauteed Tuscan black jale with speck. Spring peas with carrots and rabbit sauce. Grilled radicchio di treviso with balsamic dressing.
Suggested Wine: Chianti Classico or Aglianico