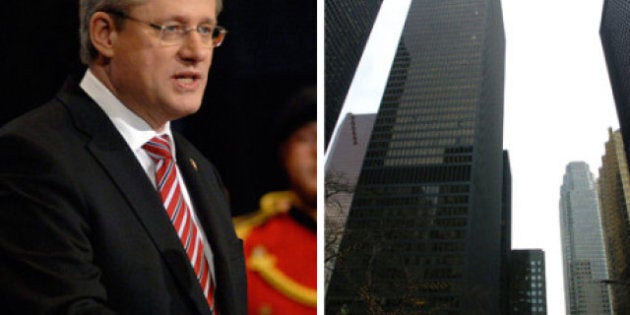 OTTAWA - Quotes about the Supreme Court of Canada's rejection of Ottawa's planned law to create a national stock market regulator:
— "Canada has not established that the area of securities has been so transformed that it now falls to be regulated under the federal head of power. In sum, the proposed act overreaches genuine national concerns." the Supreme Court justices wrote in their ruling.
"We have the decision and we will respect it. It is clear we cannot proceed with this legislation. We will review the decision carefully and act in accordance with it,: — statement from Finance Minister Jim Flaherty.
"This is a major victory for Quebec and for Canadian federalism. The Supreme Court's opinion is an unequivocal reminder that the parliament of Canada may neither unilaterally assume provincial powers nor broaden its powers as it sees fit. It must abide by the limits of the sharing of jurisdiction. This marks a victory for federalism over unilateralism." — Quebec Finance Minister Raymond Bachand.
—"The provinces still retain important jurisdiction, nobody is denying it, but both levels of government can now come together... to get where we need to get to," said Ian Russell, president of the Investment Industry Association of Canada.
"There's more work to be done, there's more negotiations to be done. There's a clear federal interest and clear federal jurisdiction, so we build from here." — Canadian Bankers Association head Terry Campbell.
— "We remain focused on regulating Ontario's capital markets in the best interests of the province's investors and market participants. We are currently dealing with important policy, enforcement, market infrastructure and other matters that will require our full commitment. With respect to national regulatory initiatives, we will continue to work with other provincial and territorial securities regulators." — Ontario Securities Commission CEO Howard Wetston.
"There is more work to be done to move towards a national securities regulator, and the ruling provides some principles and boundaries to move in this direction." — Katie Walmsley, president of the Portfolio Management Association of Canada.
"Alberta will work co-operatively with our provincial partners and with the federal government moving forward. At the end of the day, we all share the same goal—a stable, fair and efficient securities system that protects investors and is a model recognized as among the best in the world." — Alberta Finance Minister Ron Liepert.
"This decision based on constitutional principles also confirms the harmonization of regulators in Canada based on the establishment of a passport to which the provinces adhere, with the exception of Ontario." — Francoise Bertrand, CEO of the Quebec Federation of Chambers of Commerce.
"The unilateral approach by the federal government is no way to do business. I hope they will take this ruling as a signal from the high court that we all need to put our heads together and work co-operatively to deal with issues like transfer payments for health care and other key public services." Manitoba Finance Minister Stan Struthers.
"Now that the court has decided, I think Ontario will have to make its choice whether to join the passport system or remain outside the passport, but it's clear that one of the two options for Ontario has disappeared." — Mario Albert, president and CEO of L'Autorite des marches financiers, Quebec's securities regulator.