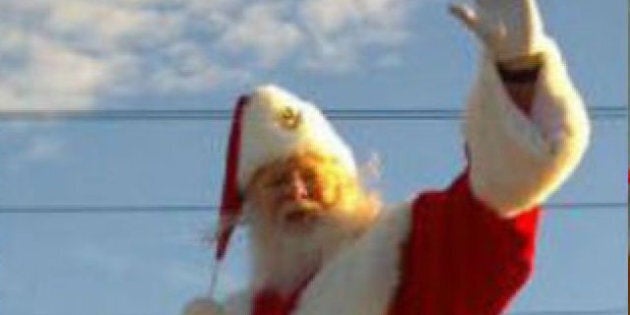 There were plenty of sightings of Santa Claus in the skies above Canada and the United States overnight, with his reindeer-powered sleigh loaded with gifts for boys and girls.
NORAD confirmed Santa took off from the North Pole around 6 a.m. ET on Saturday with Rudolph's red nose guiding the way. Previously reported sightings of the gift-laden sleigh were apparently test runs, a requirement to warm up the reindeer for their epic global trek.
Satellite images available on NORAD's website show Santa's minute-by-minute progress. By about 8 p.m. ET he had touched down in South America, Europe, Russia, the Far East, a number of small islands in the Pacific and Atlantic Oceans, New Zealand and Australia, the Middle East, South Asia and Africa.
"He's making good progress around the world," Lt.-Gen. Thomas Lawson, the Canadian deputy commander of NORAD, told CBC News.
Santa reached the shores of North America at about 10 p.m. ET, on the final leg of his journey around the world. He was seen first in Charlottetown, before moving into the rest of Atlantic Canada and then inland. He was also spotted in dozens of communities south of the border.
By midnight he had delivered around 1.7 billion gifts to the good boys and girls of the world.
On the NORAD Tracks Santa website, children can see a map of where Santa has dropped off presents and watch videos of his flight.
The website explains that the military organization, responsible for aerospace and maritime defence in Canada and the U.S., tracks Santa with a combination of radar, satellites, cameras and fighter jets.
That detection is made much easier thanks to Rudolph's bright, red nose which emits an infrared signature, Lawson said.
The latest information available from NORAD said Santa appeared to be in good spirits and his reindeer are doing fine.
"We don't know exactly his flight plan, but best be in bed when he does come," Lawson said.