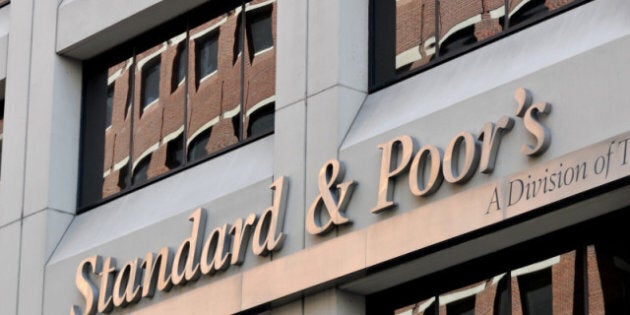 It may not always feel like it in the real economy (more evidence came out Friday showing Canada's employment picture is far from rosy) but on a fiscal level, the world can't seem to get enough of Canada's economic story.
With abundant resources and a government that's pledging to tame the deficit, international investors have been pouring money into all things Canuck of late. Ratings agencies Moody's, Fitch and S&P all recently reaffirmed our pristine AAA credit rating.
In layman's terms that means when it has to borrow money Ottawa gets a better interest rate than countries whose financial house isn't in as good order.
In the long term that's bound to be a good thing — healthy investor appetite for Ottawa's debt means the government can theoretically tax citizens less while they pay down the deficit, or maintain the current level of services and avoid cuts. But in the short term, our popularity is having at least one nasty side effect, as CIBC's chief economist Avery Shenfeld pointed out in a research report on Friday.
"We have a beef about another impact of winning the bond market's beauty contest," Shenfeld wrote. Despite the lower returns we get away with paying, the perceived safety of Canada's economy has pushed international investors to gobble up Canadian bonds at a record pace for much of this year. They acquired $4.2 billion worth of government debt in October alone, for example, the most recent month for which data is available.
"As they've accumulated those positions," Shenfeld said, "the Canadian dollar has been driven up in the process."
The debate over the dollar is as old as the hills, but there isn't much question that it's at least temporarily bad for manufacturers. At the very least, a strong loonie translates into higher labour costs as workers get paid more, which makes Canada less competitive internationally.
"Canadian manufacturing workers have turned from a bargain to a luxury item," Shenfeld said.
The wage gap between what Canadian workers in the goods-producing sector earn versus their U.S. counterparts is at the highest its been since 1993. Small wonder, he notes, that employers are now taking a tough line at the bargaining table, waving the relocation threat during union negotiations.
Two current lockouts, one at the Electro-Motive parts plant in London, Ont., and another at Rio Tinto Alcan's Quebec smelter are direct victims of the trend, Shenfeld hinted in his report.
And those come on the heels of high-profile labour disputes late last year at Air Canada and Canada Post.
If the trend continues — or worse, if more countries (especially the U.S.) are added to the ratings agencies' naughty list — policymakers in Canada might have to take steps to cool down the loonie or deal with the consequences.
If watching manufacturing jobs continue to swirl down the drain is the result, Ottawa may soon regret the straight-A report card the bond market keeps giving them.