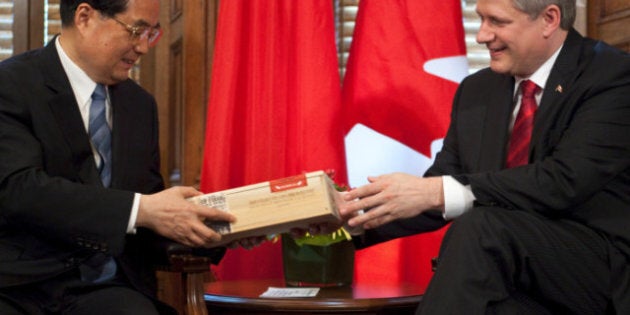 OTTAWA - China knows what it wants from Canada — oil, gas and minerals. For Stephen Harper to claim success on his coming trip there, he must present a plan on how to deliver those coveted commodities.
Energy will dominate discussion between the prime minister and China's communist leaders when he makes a return visit next month, announced Wednesday. China has a voracious appetite for natural resources to power its fast growing economy.
Harper has made it clear he sees China and its Asian neighbours as an important market for Alberta crude — especially in light of the roadblock imposed by the Obama administration that delays the Keystone XL pipeline that would have connected the oilsands to the Gulf of Mexico.
Harper also faces formidable domestic obstacles before he can hope to give China the pipeline it wants — the Northern Gateway that would carry oil and gas from Alberta to the British Columbia coast, for shipment to Asia.
China is content to wait on the Northern Gateway, by pumping billions of dollars into oilsands development to increase global production and drive down the price oil, said Wenran Jiang, an energy expert who specializes in Sino-Canadian relations at the University of Alberta.
But Harper needs to arrive in Beijing with at least a preliminary plan to deliver the goods eventually, he said.
"I think it's really important for Harper to have an energy agenda — co-operation with China with tangible steps," said Jiang.
"Otherwise, all his talk … all this will become bluffing if he has no tangible follow-up when he goes to China."
Jiang said Harper should fly to China with a coterie of energy ministers and premiers from the western provinces, and energy executives. Harper should lead by offering specific memorandums that contain "targets about welcoming continuous co-operation of Chinese investment and future export of oil."
"Other than Gateway, there are other means of delivering oil," said Jiang, who has high-level political contacts in Beijing. But if Harper doesn't make tangible progress, "the trip will not be very substantial."
Harper helped elevate the importance of his coming visit by inviting Zhang Junsai, China's ambassador to Canada, to his Langevin Block office Wednesday.
The prime minister's written statement — his usual way of announcing foreign travel — was sprinkled with rhetoric that Beijing finds favourable, and was devoid of the two words that it finds most offensive: human rights.
"Canada and China enjoy a strategic partnership based on mutual respect and collaboration and rooted in strong social and cultural links, shared by over one million Canadians of Chinese descent," it said.
"Our government is committed to moving our relationship with China forward by focusing on deepening economic ties, including opening new markets, and setting the foundation for long-term growth."
Harper said last month he was eager to revisit China, and would be ready to travel if Beijing would only get back to him with a date.
"This relationship has been developing very rapidly in quite a few areas, especially in the economic areas. We hope that we will maintain this relationship and lift it up further after your visit. I'm sure that your visit will be very successful," Zhang told Harper over the continuous whir of cameras during Wednesday's 90-second photo-op.
Harper responded: "That's our mutual wish. I always have good, vigorous conversations with both the president and premier and I look forward to this."
The remarks echoed the exchange between Chinese President Hu Jintao and Harper during their November meeting in Honolulu, during the Asia Pacific Economic Co-operation summit.
Harper announced Canada would seek membership in the Trans-Pacific Partnership, saying Asia was now a major economic focus for his government.
Hu noted with approval Harper's attempts to reach out, and formally invited him back to China. Harper's first trip was in December 2009, when he also met Premier Wen Jiabao.
This time around, China's current vice president, Xi Jinping, is also on Harper's radar because he will formally succeed Hu in the presidency during next year's major power handover.
Harper told Zhang that he planned to return "in the early part of February" and added, "I just want to say that we're really looking forward to that."
The ambassador responded: "Prime Minister, your visit will be very important, another highlight in our bilateral relations."
Soon after winning power in 2006, Harper rocked the Canadian business community with a series of provocative statements about human-rights failings in China — comments that also left communist leaders cold after more than a decade of bond-building and deal making under the previous Liberal government.
Upon arrival in Beijing in 2009, Harper was chided by his hosts for taking too long to visit China.
Tory cabinet ministers have paid countless visits to China in recent years to reset relations after the rocky start between the two governments.
China has since invested billions of dollars into energy projects in Alberta's oilsands, while the Tories have worked hard to repair relations and boost trade.
After winning a majority government last spring, Harper ordered John Baird, his new foreign affairs minister, to undertake a major, foreign policy review to identify countries that Canada should concentrate on.
China has emerged as a major focus of the internal document, say sources who have briefed The Canadian Press.
The document points out the obvious need to bolster trade with Asia, China in particular.
It also outlines the pros and cons of allowing China's state-owned enterprises to buy into Canada's lucrative energy sector.
That has raised concern in some quarters because Chinese investors are state-owned entities, not private companies, which blurs the line between China's national interest and free market business.
Jiange said Chinese state-owned companies have sunk at least $16 billion into eight oilsands projects in recent years.
Last week, a Chinese firm, PetroChina, took full control of an oilsands asset for the first time when Athabasca Oil Sands decided to sell its remaining 40 per cent stake in the MacKay River oilsands project.
While some may raise alarms about too much foreign ownership in Canada's resource industry, Jiang said the country's regulatory framework is strong enough to protect the national interest.
Like many other analysts, Jiang said Canada doesn't have the capital necessary to truly exploit its vast oil and gas reserves.
"The things that we hate the most about China — one-party dictatorship, its human-rights record, inequality, corruption, lack of labour standards — those things can't be transmitted directly into Canada because China invests here."
Jiang also dismisses environmentalists who oppose oilsands development as "narrow minded and parochial."
China has a massive carbon footprint because it relies heavily on coal-fired plants to produce energy.
"If Canada can make a contribution through selling oil or LNG (liquefied natural gas) in the future in a large quantity to China, that's a direct contribution to the reduction of the global emission of carbon. Those arguments are not being made at all in our current discourse in this country."