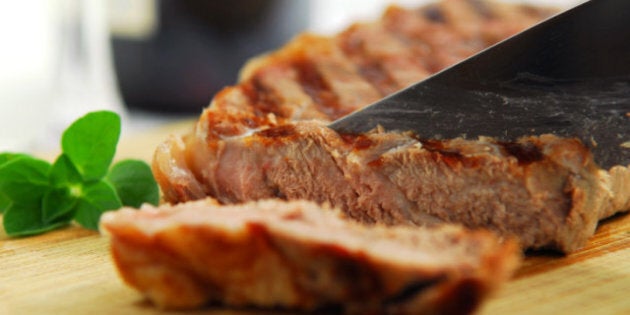 These steak sandwiches are the ultimate game-day meal for friends and family to enjoy while cheering for their team of choice. Quick and easy to prepare, they also offer the perfect weeknight meal for families on the go.
2 250 g (8 oz) strip loin steaks, trimmed
2 ml (1/2 tsp) cracked black pepper
2 large onions, peeled and sliced
10 ml (2 tsp) chopped fresh thyme
1 red bell pepper, cored and sliced
75 g (3 oz) crumbled blue cheese or Brie
Preheat oven to 180 C (350 F).
Rub steaks with olive oil and season with salt and pepper. Leave out at room temperature for 30 minutes.
In large heavy skillet, melt butter over medium-high heat. Add onions and thyme and cook until onions are golden, about 10 minutes. Add red pepper, cook 1 minute. Reduce heat to medium low, stirring occasionally, until peppers are very tender, about 15 minutes.
Meanwhile, heat ovenproof skillet over medium-high heat, add steaks and sear on both sides until well browned, about 2 minutes per side. Transfer to oven and cook until desired doneness, about 5 minutes for medium rare. Let rest for 10 minutes before thinly slicing. Alternatively, grill over direct medium-high heat, turning once, until desired doneness.
Slice buns in half lengthwise. Divide steak over each bottom bun and top with onion mixture. Sprinkle evenly with crumbled cheese. Cover with bun tops. Serve with a crisp green salad.
Nutritional information per serving: 340 calories, 22 g protein, 16 g total fat (7 g saturated fat), 28 g carbohydrate, 2 g fibre, 55 mg cholesterol, 660 mg sodium.
Source: www.homegrownontario.ca