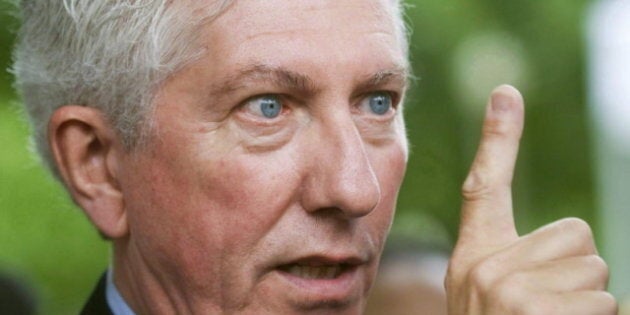 OTTAWA — Former Bloc Quebecois leader Gilles Duceppe will get to defend himself from allegations he misused taxpayer funds, but only in a closed-door hearing where his political opponents will decide his fate — a move his supporters insist will mean he won't get a fair hearing.
"There has been a lynching of Mr. Duceppe (and now) there is an inquisition tribunal formed," André Bellavance, the Bloc Quebecois' leader in Parliament, told reporters Monday.
Bellavance said he's not afraid Duceppe will let himself be muzzled but is concerned that "everything will happen in-camera, we will know nothing."
"It is a committee where there are only political opponents who are present and (they) are doing an inquisition tribunal against Mr. Duceppe and if they decide completely arbitrarily that Mr. Duceppe must reimburse the money, I think the process will be discredited — if we ourselves were not there to ask any questions and call witnesses."
Conservative Whip Gordon O'Connor told The Huffington Post Canada the Board didn't have enough details to make a finding Monday.
"All we have is what is in the newspapers, nothing else, so we are going to invite him," O'Connor, a spokesman for the board said.
"We have the data but we need to hear from Mr. Duceppe (and let him) tell his side of the story."
The Bloc continues to insist that it acted well within House of Commons rules, but MPs from all the other parties have denounced Duceppe's approach, arguing that such partisan spending is strictly prohibited.
NDP interim leader Nycole Turmel repeated Monday that in the NDP, "It is very clear, the employees of the party are paid by the party. It's very clear."
The Bloc insists that it is that "grey" zone that allowed them to pay Duceppe's adviser for years without anyone questioning the practice.
If all the party leaders were forced to define the tasks that their staff — researchers, assistants and advisers — perform, future problems might be avoided, suggested Bloc MP Louis Plamondon.
"If this grey zone appears to be improper, we will agree that the rules be restricted," Plamondon told reporters.
"We are ready to sit down and reflect with them, what we don't want is a lynching exercise," he added.
So far the Board of Internal Economy has refused to allow the Bloc to attend their meetings. With only four seats in the House, the Bloc isn't recognized as an official party and therefore is not entitled to sit on the Board, the secretive committee that administers the House.
Bellavance wants a Bloc Quebecois MP to be present not only to lend support to Mr. Duceppe but also to call witnesses from other parties to testify on how they administer their budgets.
"We would also like to hear from other parties on how they function, how the other party leaders, their officers, ministers, how they hire people and what tasks they perform because what we find out when reading the rules … is that all political parties are engaged in partisan activities. We all agree on that, so we want the other political parties to explain their hires," he said.
Turmel, for her part, insisted that her principal secretary, former NDP national director Brad Lavigne, only does parliamentary work despite being deeply involved in all aspects of the party's growth strategy and tactics on the hill.
Bellavance wouldn't discuss what could happen if the Bloc Quebecois is forced to pay back Gardners' $100,000 plus salary. Half a million isn't chump change for a political party with fundraising woes.
"Mr. Duceppe is not guilty of anything at the moment. He is defending himself, that is normal, he is with his lawyer, so there is no question we won't comment on what happens (until) we ever decide that Mr. Duceppe is guilty."
Bellavance also added he's unsure who came to La Presse with news that Duceppe's spending might be questionable, but he's sure it was a political adversary, possibly one within the sovereigntist movement.
"It's obvious we won't engage in a witchhunt today … (but) it's obviously that it was people who saw Mr. Duceppe's possibly thinking of a return to politics that didn't want him to come back in politics," he said. "So we need to search amid his adversaries, those who did not want him to return."
Bellavance said he certainly wouldn't point the finger at the PQ, adding that he didn't think it was the time for sovereigntists to shoot themselves in the foot.
Like Huffington Post Canada's Ottawa Bureau Chief Althia Raj's reporter page on Facebook and follow her onTwitter for all the latest news from Parliament Hill.
althia.raj@huffingtonpost.com