Marc Kielburger is a co-founder, along with his brother Craig, of Free The Children and Me to We, a social enterprise. They are authors of "The World Needs Your Kid: Raising Children Who Care And Contribute," with journalist Shelley Page.
Ever wonder what kind of dad you'd be: the calm and firm Ward Cleaver, the goofy yet wise Cliff Huxtable, or the bumbling Homer Simpson?
Fortunately, after the first two months in the precious life of my first-born daughter, Lily-Rose, I realize I'm most likely to be like my own dad.
Every morning when we were growing up, he'd spread the daily newspaper on our kitchen table and lead us through world happenings and local injustices, and explain the issues behind the headlines, listen to what we thought, and together we'd often ponder how we could learn more or even get involved.
It clearly had a lasting impact.
For most new dads, there's no discounting that overwhelming sense of excitement about all the things your child will see and do in their lifetime. There's an undeniable desire to show and teach them everything right away -- to introduce them to the world just as the previous generation (dads and moms) did for us. (It just may be with an iPad instead of a newspaper.)
Like any important task in life, however, the key to success is in the follow-through. Anyone can become a father, but not everyone can be a dad. That's a title earned over countless hours holding, reading, playing, feeding, encouraging and chauffeuring, among other things.
It's tough for a busy dad with a rewarding career that may entail long hours and lots of travel. The challenge -- besides finally getting the temperature of your baby's bottle right -- is to satisfy that side of one's life and identity, and to still be a present father.
There's one statement in this last study that will likely be a real standout for all dads: that "the strongest predictor of empathic concern in children and adults is high levels of paternal involvement while a child."
The key term there is "high levels." No one advocates for helicopter fatherhood, but the piece of advice that tends to resonate with most fathers should be: "When you're lying on your deathbed looking back at your life's greatest regrets, you'll certainly not say, 'I wish I spent less time with my kids.'"
Being a great dad and maintaining your own identity are not mutually exclusive; indeed they are likely better fathers when they continue to pursue the other parts of their identity. And they're even better when they find ways to incorporate them all together.
That's why Lily-Rose spends three days a week in my office. Working for a youth organization means lots of eager hands ready to take a turn playing, and this large extended family who knows and cares for her is my daughter's greatest asset in becoming a social, caring girl and woman.
She also makes her inaugural trip to Kenya this March. There, I hope to expose her to a culture of community spirit (and communal parenting) in which, during my dozens of visits and hundreds of hours in people's homes, I have never heard a child say "mine" - never seen a child cry over a plaything or take one away from a sibling. It's my greatest hope that Lily-Rose is equally comfortable with and respectful of a villager who lives on a dollar a day as she is with a teacher or boss, schoolmate or co-worker back in Canada.
Here are some more father-specific tips I plan to remember to be the best dad I can be, from the hundreds of fathers I've met whose kids have become caring, compassionate young people: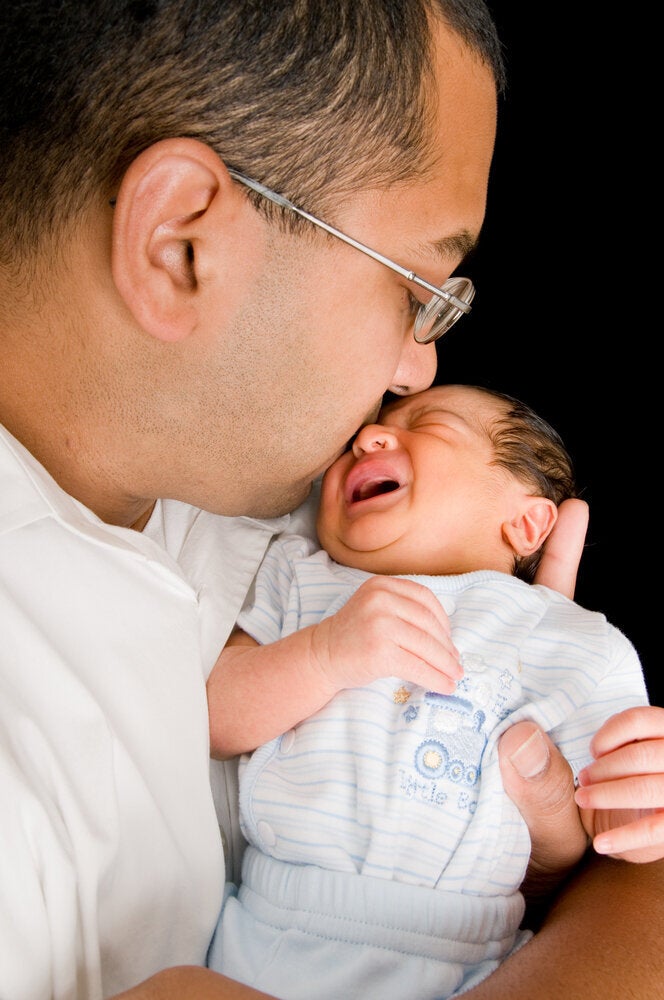 How To Be A Father: Learning Lessons As You Go-from-mt-208443
The responsive "attachment parenting" approach refined by pediatrician Dr. William Sears that includes breastfeeding, baby-wearing (in slings and wraps), bedding close, and responding to baby's cries is for dads, too. (For breastfeeding, don't worry -- this means feeding and caring for Mom while she feeds the baby). A study by University of Wisconsin child psychologist Michael Lamb found that infants are equally and "clearly attached to both parents from the beginning of attachment relations" around seven months of age.
Only eleven per cent of Canadian fathers invoke their right to take up to a year off work to bond with their newborn children -- despite federal parental leave benefits of up to eight months -- and only three per cent of two-parent Canadian families have a stay-at-home dad (compared to 25 per cent with a stay-at-home mom). Yet a 1996 McGill study cited in Libby Gill's "Stay-at-Home Dads" found that the "single most important childhood factor in developing empathy is paternal involvement in childcare," and that dads spending alone time bonding with their kids more than twice per week raise the most compassionate adults. It's time to change our societal attitudes towards dads who choose their kids' early years over the non-stop career path.
It wasn't long ago that a dad doing laundry and cooking meals was virtually unheard of. Nowadays it's become more common for men to share more equally in household duties, and the benefits go beyond the ancient wisdom regarding sex and doing the dishes: a 2010 survey by Proctor & Gamble found 91 per cent of the 1,000 fathers questioned got along better with their spouse when they shared equally in chores. A happier household equals happier kids, not to mention boys who learn to do the same, and girls who expect more from their future partners. Don't forget -- the "mom" things also include changing diapers, feeding and wearing baby, comforting, hugging and all those other small acts that bring you closer to your kid.
If you want to be more involved in your kid's life and impart positive values, then sign yourself up when you sign your kid up. More often than not, a young person's club or organization will need fathers to volunteer as leaders as much as they need young participants.
5. BE THEIR GO-TO PERSON FOR THE SCOOP, DUDE
Most parents of socially involved youth tell us their kids started asking "Why?" at age three and just didn't stop. Their advice? Explain if you know, and find out if you don't. "Talk to your kids like they're your adult friends, right from the start," says one father. "Explain things in clear language, but don't back down from big words or concepts. If they don't get it, they'll ask "why" again, and you build their vocabulary and understanding." And when you're stumped (and with all those questions, you will be eventually), take the time to investigate the answer together. They'll learn the humility to acknowledge when they don't know, and the skills to find the answers.